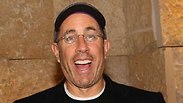 Seinfeld at Ben-Gurion Airport (Photo: Sivan Farag)
Legendary stand-up comedian Jerry Seinfeld landed in Israel on Friday, ahead of four performances during his world tour. He will perform in front of a sold-out Menora Mivtachim Arena in Tel Aviv four times, on Saturday and Sunday.
Initially he was meant to perform once, but three more shows were added due to the high demand for tickets.
Seinfeld, a Jewish American, started peforming stand-up comedy after he finished school, and became world-famous when he created the smash hit comedy series Seinfeld along with his friend Larry David, which was broadcast from 1989 to 1998. Seinfeld was also the lead star in the sitcom, which was of course named after him.
Seinfeld in Israel (צילום: אבי מועלם)
After the show went off the air Seinfeld went on a stand-up tour, produced a documentary called Comedian, wrote books based on his material, produced and starred in the animated film "Bee Movie," and made guest appearances on several shows.
In 2012, he started the web series "Comedians in Cars Getting Coffee,"
in which he hosts fellow comedians, drives them in a car, gets a caffeinated beverage with them, and they discuss anything that's on their mind.
Seinfeld has visited Israel in the past, even volunteering at a kibbutz when he was just 15 years old. This will, however, be his first time performing in the country. "So happy to be back, so happy to be in Israel again," he said upon his arrival.