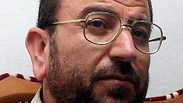 As agreed upon Hamas' senior representative in Istanbul, Saleh al-Arouri, was expelled from Turkey Monday. Nevertheless, there remain a number of points which can stall and even torpedo normalizing diplomatic ties.
Israel established al-Arouri's expulsion from the country as a condition for achieving full reconciliation between Ankara and Jerusalem. Al-Arouri's "voluntary" departure was agreed upon during the meeting between Hamas' political chief, Khaled Mashal and Turkish President Tayyip Erdoğan and Turkish Prime Minister Ahmet Davutoğlu last Saturday.
Nevertheless, Erdogan clarified to close associates that he had no intention of closing Hamas' offices in Turkey and would not stop his financial and moral support of Hamas, as Israel requested.
Moreover, Turkey is adamant regarding its request that Israel remove the blockade of the Gaza Strip, and Israel refuses to do this. Turkish officials claim that Israel agreed to lighten the blockade, but Israel denies this.
A secret meeting was reported on last Thursday between the soon-to-be Mossad chief Yossi Cohen, Prime Minister Benjamin Netanyahu's envoy in the contacts with Turkey, Joseph Ciechanover and Turkish under-foreign minister Feridun Sinirlioglu in Zurich.
The Prime Minister's Office announced that at the meeting it was agreed upon that Turkey's ambassador would return to Tel Aviv and Israel's envoy would return to Ankara. Moreover, Israel agreed to establish a compensation fund for those killed in the Mavi Marmara incident, and in return Turkey will renounce any and all claims regarding it.
It was also agreed upon that al-Arouri would be expelled from Turkey and that talks about laying a gas pipeline between Israel and Turkey would soon begin.
Al-Arouri, one of the founders of Hamas' military wing, sat in Israeli jails for 15 years before being expelled to Syria. In 2012, when Hamas' offices in Syria were closed down, he fled to Turkey. From Turkey he was involved in orchestrating the kidnapping and murder of the three Israeli teenagers in Gush Etzion in June 2014.
Turkish media were asked Monday to not publish the reason for al-Arouri's expulsion from the country. Newspaper editors were told that the official reason given would be that he left of his "own free will". As of now it is unknown where al-Arouri will reside. It is believed that he will reside either in Qatar or in Lebanon.