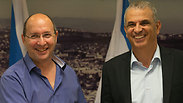 Finance Minister Moshe Kahlon and Histadrut Chairman Avi Nissenkorn
A general strike which was to go into effect at 6am Wednesday was averted after Histadrut Chairman Avi Nissenkorn and Finance Minister Moshe Kahlon came to a last-minute agreement.
The parties have agreed that 450,000 public-sector employees will receive a total pay increase of 7.5% and a one-time payment of NIS 2,000, and for the first time the salary supplement will be distributed differentially to help lower income-earners more. It was also agreed to continue the discussions and to report on developments in the negotiations by January 3, 2016.
They agreement is valid for a five-year period, from January 2013 to December 2017. The agreement establishes that public-sector workers will receive a total pay increase of 7.5% spread out over 3.5 years. This translates into a budget increase of NIS 7.5 billion, as compared to the Histadrut's original demand for NIS 11 billion.
The salary increases will be distributed differentially so that 50% will be given as a shekel addition to their salary and 50% as a percentage increase of their salary. In other words, the wage increases will reduce the gap between low and high wage-earners in the public sector. In addition, employees will receive a one-time bonus payment of NIS 2,000 to be paid in two stages - NIS 1,000 in January 2016 and another NIS 1,000 in January 2017.
Kahlon and Nissenkorn: A historic agreement
Low-wage employees will also receive an additional payment beyond the 7.5% provided to all employees. In addition, the agreement gives parents who work in the public sector an additional day of vacation in August which they can take in order to shorten the work days in that month. they can be exploited shortening of working days this month. This section has mainly to facilitate working parents.
Finance Minister Kahlon said that "this agreement changes the rules of the game and says clearly – what was will no longer be. Highly-paid employees showed social solidarity and said explicitly that they are willing to sacrfice for low-wage earners. This agreement is no less than historic."
Histadrut Chairman Nissenkorn said: "I want to congratulate today the public sector employees and the Minister of Finance. We made history today with unprecedented social significance. We proved that with true dialogue we can take steps that were as yet unseen in their scope and significance… The State of Israel has won."