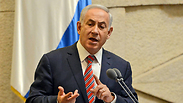 Prime Minister Netanyahu
Photo: GPO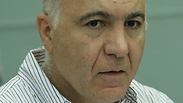 Shin Bet chief Yoram Cohen
Photo: Atta Awisat
Prime Minister Benjamin Netanyahu issued a statement of support on Tuesday to the Shin Bet, condemning criticism of the agency surrounding allegations of torture used against the Jewish suspects arrested in connection with the arson in Duma that claimed the lives of three members of the Dawabsheh family.

"Director Yoram Cohen and his personnel are doing important and excellent work for the people of Israel and for the security of Israel. I find the attacks on them to be unacceptable," Netanyahu said.

Jewish extremists have for years vandalized or set fire to Palestinian property, as well as mosques, churches, the offices of left-wing Israeli groups and even Israeli military bases. The so-called "price tag" attacks seek to exact a cost for Israeli steps seen as favoring the Palestinians.

The prime minister pledged "zero tolerance" for such attacks and Israel has authorized a series of steps, including administrative detention, to help stamp out the trend.

"There is Arab terrorism that we deal with and combat day and night in every arena, but unfortunately from time to time there are also acts of terror committed by Jews," Netanyahu said. "We will not accept terror from any side."

Defense Minister Moshe Ya'alon also came to Cohen's defense when he posted his "full support for the Shin Bet and the director of the Shin Bet" on his Facebook page.

"The attempts to harm the Shin Bet and its people are based on blunt lies, a deception of the general public, and dangerous and irresponsible manipulations coming from lawyers and, unfortunately, also from ministers, MKs and other public officials," Ya'alon said.

He called for the end of the "cynical political incitement against the Shin Bet and its people, who are acting in accordance with the law, with a close and strict legal guidance, and the investigation they are conducting is meant to bring uncurbed terrorists to justice."

Education Minister Naftali Bennett, of the right-wing Bayit Yehudi party, also expressed his support to the Shin Bet, telling Army Radio that the "Shin Bet protects us every day from the Palestinians, and we have to rely on the same Shin Bet now."

"We have to employ the firmest hand possible in order to prevent the next Duma," Bennett added.

Justice Minister Ayelet Shaked (Bayit Yehudi) joined her party leader's defense of the Shin Bet, rebuffing accusations of misconduct, torture, or any attempted suicide during the investigation.

"The process is being conducted and scrutinized by the judicial authorities and in accordance with the legal guidelines," Shaked said.

Shaked further denied that there was any truth to the claims that one of the suspects had attempted to commit suicide. "I have been informed that contrary to the allegations and the publications made, there was no attempted suicide by one of the suspects," she asserted.

"Since we received complaints about the ways in which the investigation was handled, I have been in close contact with the Attorney General, State Attorney, and the director of the Shin Bet in order to ensure that red lines are not crossed," stressed Shaked. "The entire process has been carried out in conjunction with the judicial system and in line with judicial regulations."

The justice minister also sought to alleviate concerns that the suspects had been denied access to an attorney. Moreover, she disputed any claim that the suspects' were medically mistreated.

"It is important for the public to know that the three suspects who were arrested have already seen a lawyer and that their medical state is in perfect condition," Shaked said. "I have been informed that they are checked routinely by doctors."
Protests against Shin Bet continue
Eleven right-wing demonstrators were arrested at a protest on Tuesday at HaTishbi Junction on Highway 70 near Yokne'am.

In Jerusalem, some 100 protesters showed up at the Chords Bridge at the western entrance to the city and tried to block traffic, but were pushed back by police. Four protesters were arrested.

Protesters were waving signs that said "A Jew doesn't torture another Jew," and calling out "The Shin Bet is a Jewish terror organization" and "Return the abducted to their homes."

Similar protests were simultaneously staged in various locations throughout Israel, including outside Bennett's home in Ra'anana. A group of 40 protestors stood outside the education minister's home after he had defended the Shin Bet.

Protests have been going on for several days. On Monday, two officers were hospitalized with fractured bones after being hit by stones hurled by the protesters. One of the protesters even threatened police, telling one officer: "I hope you are kidnapped and your bones broken, you Shin Bet collaborator."

Seven protesters have been arrested on Sunday and Monday in protests held in several different places, including in Jerusalem, Ashkelon, the Morasha Interchange near Ramat HaSharon and at the entrance to Ramla.

Protesters also demonstrated in Rosh HaAyin outside the home of Petah Tikva Magistrate's Court Judge Erez Nurieli, who extended the remand of one of the suspects. In the wake of the incitement against the judge, the Court Administration decided to provide him with security.

The Jerusalem Magistrate's Court on Monday extended the remand of two protesters who were arrested the previous day for assault, rioting and hindering a police officer in the line of duty.

On Tuesday, the court released one protester arrested the previous day with restrictions. The protester, Yonatan Alhanan, was barred from the Kiryat HaMemshala area in Jerusalem for 20 days and had to post bail.

The Dawabsheh family home was set on fire at the end of July. Masked men threw Molotov cocktails into the house and fled. Baby Ali died in the fire and his father Saed died a week later from his wounds. Mother Reham's condition was extremely serious, and she too died five weeks later. Four-year-old Ahmed's condition has improved significantly in recent weeks, but he remains hospitalized in the intensive care unit at Soroka Medical Center in Be'er Sheva.

Itamar Eichner Roi Yanovsky, Ahiya Raved, Yoav Zitun, the Associated Press and TPS contributed to this story.