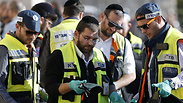 At the site of the stabbing attack in Jerusalem
Two dead, one wounded in Jerusalem terror attack
Two terrorists, both formerly in Israeli custody, stab two people, wounding one seriously and the other fatally, before being shot by Border Guards; third personsuccumbs to gunfire wounds, possibly inflicted when security forces fired at the terrorists.
Two Palestinian terrorists stabbed two people, wounding one seriously and the other fatally, at around 1:15 PM on Wednesday at Jerusalem's Jaffa Gate. Another civilian succumbed to gunfire wounds, possibly inflicted when the guards fired at the terrorists, hours after the attack. Border Guards shot the two terrorists, killing one and wounding another who later died of his wounds.
The gunfire victim was named as Ofer Ben-Ari, 46, a married resident of Jerusalem and father of two. The man who was fatally stabbed was Rabbi Reuven Biermacher, 45, a married father of seven.
A video obtained by Ynet shows that after the terrorists were shot, a group of civilians struggled with one of the terrorist, then kicking him. Police noted that one of the terrorists tried to get up and continue stabbing after he was shot.
The following video, exclusive to Ynet, captures the moments of the attack.
Exclusive footage of the attack (באדיבות: קובי עוזר)
The terrorists were identified as Anaan Hamad, 20, and Issa Asaf, 19, both from the Qalandiya refugee camp. Asaf served tume this year for "popular" terrorist activity and was released. Hamad was arrested in 2010 after arriving at the Qalandiya checkpoint with a knife with the goal of being detained, as he claimed during questioning that he had come to the checkpoint because he was frequently beaten by his father.
The three wounded civilians were taken to Shaare Zedek Medical Center and Hadassah Medical Center in the city. Two of them died while in the hospital in the hours after the attack.
Chief Superintendent Asi Aharoni, a spokesman for the Jerusalem district, said that female Border Police officers are stationed at the Jaffa Gate Border on a security mission, and they notices a crowd of people running in panic in their direction. "They understood immediately that an attack was occurring and they bravely ran to the site, identified two terrorists with knives while one was stabbing someone. They shot at them precisely and prevented more innocent people from getting hurt."
Aharoni reported that the shooting victim may have been wounded by the Border Police. "The police are very highly trained and skilled, but it is possible that a person was wounded by gunfire. Nevertheless, thanks to their heroic action they prevented a much more serious attack from taking place."