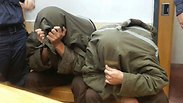 The two defendants in court
Photo: Hassan Shaalan
Two relatives, Mohammed Hassan and Ahmad Saida, were charged on Thursday morning with supporting the Islamic State and planning a terror attack at the Golani Junction in the Galilee.

Hassan, 20, is a resident of the village Reineh, while Saida, 23, is a resident of the town Shibli–Umm al-Ghanam, both in the Galilee region in northern Israel.

The two defendants traveled to Turkey last May, where they met with an ISIS operative and tried to enter Syria. When they arrived at the border, they met refugees who told them of the horrors happening in Syria, which led them to change their minds and return to Israel.

Since their return, the two defendants became even more radicalized by watching ISIS content online. They were also in contact with other ISIS supporters in Israel.

The two have not entirely given up on their desire to fight with ISIS, and Hassan was in contact with an ISIS operative in Iraq.

The two also started planning a terror attack in Israel, picking the Golani Junction as a preferred spot due to the high concentration of IDF soldiers there. To that end, Saida sought to purchase arms from a third party.

"We don't understand the reasons for the arrest," a relative of the two defendants told Ynet. "We heard it's over suspicions they are ISIS supporters but it's hard for me to believe that. They're good people and they have no thoughts of supporting terror organizations or joining them. Eventually, the truth will come out and they will be released."

Meanwhile, the Jerusalem District Court sentenced Khalil Khalil, 25, from At-Tur in East Jerusalem to two years in prison after he tried to enter Syria in January 2015 in order to join the ranks of the Islamic State, but was caught at the Turkish border. He confessed to contacting a foreign agent and attempting to join an unlawful organization and was convicted as part of a plea deal.

Yael Friedson contributed to this report.