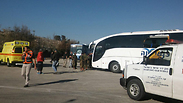 One of the buses that was pelted with stones
Photo: TPS
Three students on a tour of southern Mount Hebron organized by Breaking the Silence were lightly wounded when stones were thrown at their bus near Beit Ummar on Friday.
The bus continued on its journey and reached Kiryat Arba, where the three women, who suffered scratches from the shattered glass of the bus window, received treatment from volunteers of the Hatzalah organization.
"To our relief, this incident ended without serious injuries," Breaking the Silence said. "This is the reality in the territories, and we are working to change it."
Another bus was pelted with stones in the same area and around the same time. No one was hurt, but damage was caused to the windshield.