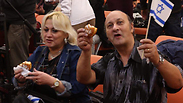 New immigrants from France
Photo: Motti Kimchi
A record number of French Jews moved to Israel this year, an immigration official said on Thursday, citing anti-Semitic violence and economic insecurity in the European country as causes.
France has the largest Jewish population in Europe, having grown by nearly half since World War Two to some 550,000. The community has been jarred by an increase in security threats and Islamist terror attacks such as January's gun rampage at a Paris kosher market that killed four Jews.
Israel's quasi-governmental Jewish Agency, which encourages immigration, said some 7,900 French Jews had relocated to Israel in 2015, a 10 percent increase from the previous year.
"Each has his or her reason, including the economic crisis, personal security, terrorist attacks, and, in some places and times, an anti-Jewish mood," agency spokesman Yigal Palmor said.
Though not final, the immigration figure falls short of Jewish Agency head Natan Sharansky's prediction after the kosher market attack following the Charlie Hebdo shootings in January that more than 10,000 French Jews would move to Israel this year.
Palmor said wider Jewish immigration to Israel reached a 15-year high in 2015, with around 30,000 new arrivals. He noted a high number of arrivals from economically troubled Russia and civil war-torn Ukraine.