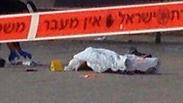 A terrorist attempted to run over combat soldiers from the Givati Brigade on Saturday afternoon near Hawara in the West Bank. One of them was lightly wounded in the attack.

The attacker was shot and wounded. He was evacuated by the Red Crescent to Rafidia Hospital in Nablus, where he later died of his wounds.

On Saturday morning, a terrorist attempted to stab a police officer in Jerusalem's IDF Square (also known as Tzahal Square). He was shot and killed, and no other people were harmed.

Police saw the man in the square, and he raised their suspicions. They approached him, while keeping a safe distance. He then pulled out a knife and tried to stab one of them. The police officers quickly responded, shooting and killing him.