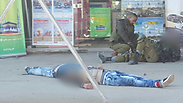 Two soldiers were wounded on Sunday afternoon in a stabbing attack at Hawara checkpoint in the West Bank, hours after another soldier as lightly wounded in a stabbing attack in Jerusalem.
Givati Brigade soldiers were in the middle of a routine operation on Highway 60 near the town of Hawara, south of Nablus. They spotted two suspicious men and got out of their jeep to ask for their papers. The terrorists took out their papers, then began to stab the soldier who was checking their papers. The soldiers shot and killed both attackers.
One soldier was moderately wounded in the knee from the stabbing, while the other was lightly-to-moderately wounded in his face from friendly fire. Both were taken to the Beilinson Hospital at Rabin Medical Center in Petah Tikva.
The terrorists were Muhammad Sabana,17, and Noor al-Deen Sabana, 23, from Qabatiya in the northern West Bank.
Early Sunday morning, a 21-year-old soldier was stabbed near Jerusalem's Central Bus Station. He was lightly wounded. A security guard nearby neutralized the terrorist.
Magen David Adom medics treated the soldier who was suffering from a stab wound to his upper body. He was taken to Hadassah Medical Center in Jerusalem's Ein Karem.
The terrorist, about 30 years old, was on Tzvi Street in Jerusalem and saw a soldier on his way to the Central Bus Station. He stabbed the soldier in the back and then tried to stab him a second time but the soldier fought back and pushed his attacker to the ground.
A security guard who witnessed the attack overcame the terrorist. Police at the bus station ran to the scene and arrested him.
The stabbed soldier recounted to his parents what happened: "I was walking to the Central Bus Terminal when I felt a blow on my back. I thought it was a friend from behind saying hello and it took me a moment to realize that it was a terrorist attack and that I had been stabbed. I saw someone continue walking and then stop, he looked at me and started to run.
"All of a sudden I noticed he was carrying a knife. Everything happened so fast, I did not understand what was happening. I chased after him and grabbed his hand holding the knife and we both fell backwards. Luckily I fell on his hand so he could not stab me. I grabbed his face with my other hand and screamed for help and a security guard came and took control of him."
The soldier enlisted in the Artillery Corps three weeks ago. He was discharged from the Hadassah Medical Center in Jerusalem's Ein Karem and will be able to participate in the inauguration of his unit in about a week.
His parents, who made aliyah a few years ago, were happy that their son was only lightly wounded. "Thank God he's alright and we're happy that he's coming home," said his mother.
Also on Sunday, a Palestinian woman armed with a knife was spotted on the road to Ma'ale Shomron. She dropped the knife and tried to escape when the settlement's head of security drove towards her, but was caught. Another Palestinian woman was caught with a knife as she was passing by a checkpoint in Hebron. She was detained and questioned.
A police officer was lightly wounded from stone-throwing at HaOkfim Junction near Kiryat Arba on Sunday morning.