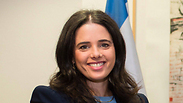 Justice Minister Ayelet Shaked
Photo: EPA
The European Union slammed a bill proposal seeking to impose transparency on Israeli NGOs receiving donations from other countries, with EU officials saying that "Israel should be very careful about reigning in its prosperous democratic society with laws that are reminiscent of totalitarian regimes."

The Transparency Law (also known as the NGOs Law) was approved by the Ministerial Committee for Legislative Affairs on Sunday.

The legislative proposal seeks to increase transparency in NGOs and public-benefit corporations which receive most of their funding from other countries. However, the bill would not apply to NGOs funded by private foreign donors, which has led to outrage in the opposition.

The bill requires NGOs who receive more than half of their funding from other countries to make a note of this in publications and reports released to the public. These NGOs will also have to state that fact in any inquiry made to an elected public representative or public official, as well as in discussions of public nature. The NGOs will be required to state the names of the countries that donated to them and the years the donations were made.

The legislation also seeks to impose on representatives of these NGOs the same rules that apply to lobbyists at the Knesset, including wearing an identity badge detailing the name of the person and the NGO they represent. Representatives found without such a badge will have their entry permit to the Knesset revoked.

NGOs failing to comply with the new legislation will receive a fine of up to NIS 29,200.

"The Transparency Law is meant to limit the information that gets to foreign countries," Shaked said at the beginning of the weekly cabinet meeting. "When foreign countries are involved in the internal affairs of another country, the public should know about it. The European Union's objection also shows foreign involvement."

"I actually believe the meddling of foreign countries in the regime and policies of another country is the real danger to democracy," Shaked added. "It cannot be that the EU contributes to NGOs acting on behalf of the State of Israel when in fact they are being used as a tool by foreign countries to implement their own policies."

Former justice minister Tzipi Livni slammed the proposal and submitted her own NGOs bill that seeks to increase transparency in NGOs regarding both state and private foreign donors.

"I have no problem with transparency in NGOs," Livni said. "But it must apply to everyone. Even to those who receive funds from private unknown donors. I want to also know who are the foreigners who fund 'Im Tirzu.'"

Protesters gathered outside Shaked's Tel Aviv home on Saturday night to demonstrate against the legislation, calling it the "NGO labeling law." They claimed the Justice Ministry is working on behalf of inciters, and called the bill a "witch hunt."

Omri Efraim contributed to this report.