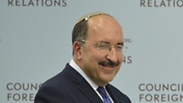 Foreign Ministry Director-General Dore Gold
Photo: CFP
Foreign Minisry director confirms: Israel foiled trasfer of arms to Hezbollah
In interview with Saudi-owned website, Dore Gold says IDF stopped Russian-made anti-aircraft missiles from arriving to Lebanon. This is the first official Israeli confirmation of the military operations the IAF holds in Syria.
Foreign Ministry Director-General Dore Gold confirmed to a Saudi-owned website on Monday that the IDF thwarted attempts to transfer advanced anti-aircraft missiles to Hezbollah. This is the first time an Israeli official makes such a statement not under the cover of anonymity.

Speaking to the London-based Saudi-owned website Elaph, Gold said Israel managed to foil an attempt to transfer Russian-made SA-22 missiles to Lebanon.

"We in Israel did not take sides and did not interfere in the Syrian war," Gold said in a rare interview of an Israeli official to Saudi media. "We have interests that we will protect and red lines. When we saw that there are those who wanted to transfer Russian missiles from Syrian warehouses to Hezbollah, we had to disrupt that activity, and we will not allow it."

Gold declined to comment on whether or not the IDF bombed Syrian army depots, but stressed that "Israel has not and will not allow anyone to violate its sovereignty, nor will it allow the transfer of weapons that would undermine Israel's air supremacy."

Earlier this month, Prime Minister Benjamin Netanyahu admitted for the first time that Israel does operate militarily in Syria, but Gold confirmed exactly what these operations entail - details that so far were only disclosed by foreign sources.

"We're operating in Syria from time to time in order to stop the country from becoming a front against Israel," Netanyahu said.

"We're operating against another terror front that Iran is trying to build in the Golan, and in order to thwart the transfer of particularly deadly weapons from Syria to Lebanon. We will continue doing this," the prime minister continued.

Referring to threats ISIS leader Abu Bakr al-Baghdadi made against Israel in an audio recording released last week, Gold assured that "Israel knows how to defend itself."

The Foreign Ministry's director-general asserted that Iran is as dangerous to Israel as it is to Arab states.

"We have common interests concerning the Iranian threat, not only Tehran's nuclear program, but also Iran's activities on the ground, and its repeated attempts to use the Shiite sect in the Arab world, to make them a fifth column among those states," he said.

Gold also discussed the possibility of warming ties with Turkey. "There are intensive talks," Gold said.

"There are issues that have been agreed upon and issues that are still under dispute, but things are moving in the right direction," he said. "Turkish and Israeli interests converge because of what is happening in the region - economic, security and regional interests, so I don't believe things will drag on, but we have not set a date for the final agreement. The regional situation leaves us no choice but to agree on the most important points, and our teams are working on this basis."

Relations between Turkey and Israel soured when the activists were killed in a raid by IDF commandos on a Turkish boat, the Mavi Marmara, which was trying to breach the blockade.

Expectations of a breakthrough were intensified after senior officials met this month to try to repair ties. The talks have raised hopes of progress in negotiations to import Israeli natural gas, particularly since Turkey's relationship with major energy producer Russia has worsened over Syria.

But comments from Presidential spokesman Ibrahim Kalin suggest Turkey may be trying to play tough in the negotiations.

"Turkey - Israel relations will not normalize until Israel realizes the three conditions. We have not given up on these," Kalin said at a regular news conference.

Ankara wants an apology for the Mavi Marmara killings, and compensation for families. It also wants Israel to end the blockade of Palestinians living in Gaza, seen as a sticking point in the talks.

"Turkey will continue to play its role until a two-state solution is reached, and the Palestinian people have their own state. There cannot be permanent peace in the region until the Palestinian problem is solved," Kalin told reporters in Ankara.

Reuters contributed to this report.