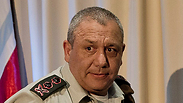 IDF chief Eisenkot
Photo: Yuval Chen
IDF Chief of Staff Gadi Eisenkot warned Israel's enemies on Monday that any attempt to undermine the country's security will be met with "grave consequences."

Eisenkot's warning comes a day after Hezbollah leader Hassan Nasrallah once again threatened to exact revenge over the killing of Samir Kuntar in an airstrike the terror organization attributes to Israel.

"Our soldiers face murderous terrorism every day with bravery and decisiveness," Eisenkot said at a ceremony honoring outstanding IDF units.

"Even beyond our borders, in the face of the threats coming from the north - we are ready for every challenge. As we have proven in the past, we know how to get to all of those who seek to harm us. Our enemies know that if they try to undermine Israel's security, they will be met with grave consequences," the IDF chief said.

Kuntar, who murdered several members of the Haran family and an Israeli police officer in a 1979 terror attack, was imprisoned in Israel for almost three decades until he was freed in the 2008 Hezbollah-Israel prisoner exchange, in return for the bodies of Israeli soldiers Eldad Regev and Ehud Goldwasser. He has since returned to terror activity in the Syrian Golan Heights, planning attacks against Israel.

"There is no doubt the Israeli enemy committed this assassination, this is not an incident that we need to investigate who is behind it," Nasrallah said following Kuntar's killing. "Israel launched missiles directly at a residential building in which brother Samir Kuntar and others were staying. The building was hit and Kuntar died along with others. The Israeli aircraft did not infiltrate Syria's airspace and were over the (Israeli) Golan. We will retaliate at any place or time we see fit."

At a memorial ceremony marking a week to Kuntar's killing, Nasrallah added: "The response for the assassination of Kuntar is coming, there's no doubt. The Israelis have a reason to be worried, in the border area and outside it."