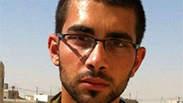 Sgt. Almog Shiloni murdered in November 2014
Nur al-Din Hashiyah from Nablus, the terrorist who murdered soldier Almog Shiloni in Tel Aviv a year ago, calmly testified Sunday that he killed him and intended to kill all those around "due to what your rabbis are doing at al-Aqsa".
Sgt. Shiloni, 20 when he died, was at Tel Aviv's Haganah train station on November 10, 2014 when Hashiyah, 18, stabbed him and tried to take his weapon. The soldier fought him and managed to prevent a more serious attack. The defense establishment decided to demolish the terrorist's house, but the Supreme Court decided to reverse the decision and cancel the order.
At Hashiyah's trial at the Tel Aviv Magistrate's Court, he described in Arabic, and in the presence of the victim's family, the events of that day.
"It is true that I murdered Almog Shiloni, I wanted to take his weapon, I wanted to kill everyone that was on the street," said the terrorist. "The reason for this is what you are doing at al-Aqsa, with your rabbis entering the mosque, and it thus becomes impure. As long as this continues, these type of actions will continue. Now everyone in the West Bank has the same thoughts."
Hashiyah said that he had confessed to the act because he had been tortured, a claim denied by the investigators.
"What I said during the investigation was the result of torture. I was very scared, I was afraid of the interrogator, he would hit me a lot, he told the judges he did not hit me and the judges believed him," claimed Hashiyah. "In the end, the judges won't judge me, but the State Attorney, which belongs to the Shin Bet. The message I wanted to deliver was received."
The soldier's father Yosef Shiloni told Ynet: "Something surprising occurred at the hearing when he said he wanted to testify and said that he killed Almog and wanted to grab his weapon and kill others.
"He previously told stories that he wanted to be killed but today the truth came to light. We have chosen life and are engaged in other activities. We are trying to build and to commemorate (Almog's) path by assisting lone soldiers. The decision not to demolish his house hurt us."