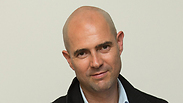 Likud MK Amir Ohana
Photo: Tal Shahar
Likud's first openly-gay MK Amir Ohana, who entered the Knesset following the retirement of minister Silvan Shalom, was sworn in on Monday, while members of ultra-Orthodox faction United Torah Judaism decided to leave the plenum in protest.

Members of the Knesset's second ultra-Orthodox faction Shas were also missing from the plenum during the ceremony, but while UTJ said they decided to ignore Ohana's swear-in, Shas said their absence was unintentional.

"I am here with everything that I am - the things I chose to be and those I didn't - and I'm proud of both," Ohana said during his swear-in speech, while his partner and two babies were watching from the balcony. "Jew, Israeli, Mizrahi, gay, Likudnik, defense man, liberal, and a believer of free economy."

Prime Minister Benjamin Netanyahu, who is also the head of the Likud party, welcomed the new MK. "The first impression is the most important, and we were all deeply impressed with your speech. I'm happy to receive you to our ranks. You carry with you an exceptional responsibility - the welcome you received brings together this fractured house. It's a great responsibility and a great opportunity," the prime minister said.

"Amir is the first representative of the LGBT community who was elected in open primaries while who he is was completely out in the open, and he was elected by thousands of voters in the Likud primaries," Netanyahu noted.

"He represents our views of liberal nationalism well. He believes in the right of the Jewish people to their country, protecting the state's security, civil rights, free economy and a free market. I got to work with him. He is pleasant, but firm in his positions, strong in his principles, and I think he will make an excellent MK and serve as a bridge between the different parts of the public. I welcome him with appreciation and pride," the prime minister concluded.

Opposition leader Isaac Herzog said he hoped that "bills we put to a vote in the Knesset that concern the issue close to your heart, which is LGBT rights, will receive your support and that of the coalition."

Ohana, 38, is an attorney, an IDF major in reserves, a former Shin Bet agent and the founder of the Likud's LGBT cell. He was entered into the Likud's Knesset list as the representative of the Tel Aviv district and placed at number 32.

He is the father of four-months-old twins who were born from a surrogate mother in the United States. He also worked to help couples undergoing surrogacy in Nepal, who got stuck there after the earthquake, unable to bring their children home to Israel.