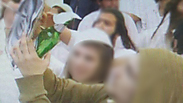 Still from video of the 'wedding of hate'
Yakir Ashbal, the groom from the "wedding of hate" at which right-wing extremists celebrated the killing of Ali Dawabshe, who was murdered in an arson attack in July, was arrested by police on Tuesday along with three other participants in the proceedings.

Three other participants in the wedding were also arrested, among them a known extreme right-wing activist.

Video footage from the 'wedding of hate'

Earlier on Tuesday, a resident of the Kfar Tapuach settlement in the West Bank was detained for interrogation by police, after he was filmed dancing at the wedding holding a gun and wearing a "Kach" t-shirt. The detainee is not the same individual who was recorded waving a picture of Ali Dawabshe, or the one who stabbed it.

Attorney Itamar Ben Gvir, who is representing those involved in the event and who was also there himself, claims that the weapon was actually a toy gun, adding that "even if it was tasteless, no crime has been committed during the dance from this perspective."

The wedding, which took place in Jerusalem a few weeks ago, was between two individuals known among right-wing circles. Rabbi Daniel Stavsky, who officiated the wedding, was recently filmed fiercely attacking the Shin Bet and accusing members of the organization of carrying out the Duma attack with Arabs.

It turned into a celebration of violence and incitement, in which the participants danced with rifles, knives and Molotov cocktails while the song "And let me take one vengeance for my two eyes on the Philistines" (changed to "Palestinians").

Last Thursday the police announced the start of an investigation into the incidents caught on camera.