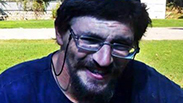 Genadi Kaufman, stabbed in a terrorist attack at the Tomb of the Patriarchs in Hebron earlier this month, died of his wounds Wednesday morning at the Shaare Zedek Medical Center in Jerusalem.

"Despite the difficult and stubborn struggle of various teams for three and a half weeks, he did not survive his serious wounds," the hospital said in a statement.

Kaufman, a resident of Kiryat Arba near Hebron, made aliyah from the Ukraine 21 ago. He leaves behind two children: a son from his first marraige who is in the navy and a seven-year-old daughter from his second marriage. He worked as a maintenance man at the Tomb of the Patriarchs.

Kaufman was critically wounded in a stabbing at the Bakery Checkpoint near the Tomb of the Patriarchs in Hebron on December 7.

The terrorist, Ihab Maswada, 21, from Hebron, arrived at a bus stop near the checkpoint and stabbed Kaufman who was standing there. Border Policemen stationed there saw the attack and shot the terrorist to death.

The head of the Kiryat Arba Council, Malachi Levinger, who spent the night at Kaufman's bedside, said that "the family is in great pain. In recent days we prayed deeply for the recovery of our friend. We ask people to strengthen the family and the community in these difficult days."