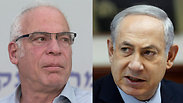 Uri Ariel and Benjamin Netanyahu
The Prime Minister's Office on Tuesday released a statement to foreign media insisting it was former construction minister Uri Ariel (Bayit Yehudi) who transferred millions of shekels to the planning of over 8,300 new settler homes in the contentious E1 area in the West Bank, between Ma'ale Adumim and Jerusalem.

Ariel, who currently serves as the minister of agriculture, "did so of his own initiative and without the required authorization," the statement said. "The construction minister has no authority either to plan or build beyond the Green Line. These plans therefore have no standing and are not binding."

The statement comes in the wake of a report by the left-leaning NGO Peace Now, which claims that Prime Minister Benjamin Netanyahu's government continues to secretly promote massive construction in the settlements, half of them far beyond the separation fence, which seriously endangers the two-state solution.

The NGO obtained documents which showed that the Ministry of Construction and Housing under Uri Ariel was seeking to build 55,548 units in the West Bank — including two new settlements — of which 8,372 homes would be in E1.

E1 and the adjacent Ma'ale Adumim settlement form an Israeli buffer east of Jerusalem that the Palestinians say would divide the West Bank and badly hurt the possibility of a contiguous Palestinian state.

In 2013, Netanyahu canceled a similar plan to build 1,200 housing units in E1 following heavy international pressure exerted on him, especially from the US government. "There is no need to pay an international price for a process that has no real meaning," said the Prime Minister's Office then.

The international community considers construction in the E1 area a provocation, because it blocks the possibility of a future Palestinian state from having territorial contiguity.