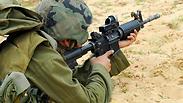 Illustrative photo of an IDF soldier with a rifle
IDF soldier wounded in friendly fire incident
During a live fire exercise near Bethlehem earlier this week, a soldier from the Artillery Corps who was 'playing' the enemy was accidentally shot by a friend from the same unit and hospitalized in moderate condition. The IDF says that such incidents are investigated and treated very seriously.
The biggest fear in army exercises involving live fire was realized on Monday when a soldier was accidentally shot and moderately wounded in a drill near Bethlehem.

The soldier, who was hospitalized in Jerusalem, was hit in the upper body by a bullet shot by a friend from the same unit, the Artillery Corps.

The Military Police have opened an investigation into the incident. Initial details of the investigation, received by Ynet, show that the wounded soldier had been "playing" the enemy as part of the drill. The exercise took place ahead of a planned operation by forces in the Bethlehem area.

During such drills, soldiers must take the bolt carrier out of their guns – which sits at the center inside of the weapon – and leave it outside until the drill has finished, in order to prevent any chance of shots being fired.

In this exercise, however, the soldiers left the bolt carrier inside their guns, and after a slight pause in the training also put the cartridge into their rifles. One of the soldiers trained his gun towards another soldier who was portraying the enemy – and fired.

The exercise was overseen by a junior commander, and the Military Police may file indictments once it has completed its criminal investigation.

The IDF also looking into a similar incident in Hebron that took place less than two months ago. On that occasion, a paratrooper accidentally shot his commander during a drill preceding an operation, moderately wounding him. The officer was relieved of his duties and the Military Police opened an investigation.

An IDF officer who was personally involved in the incident in Gush Etzion this week told Ynet: "The soldiers in that unit are briefed almost daily. They undergo safety inspections and officers continue to supervise safety procedures even during operational activities.

"Perhaps on this occasion the oversight was weaker and the commander's insufficient experience led to the orders being violated," the soldier added.

An IDF official said in response: "Without downplaying the severity of these incidents, which should not have occurred, we are not seeing a trend relative to the number of soldiers in the West Bank and the large amount of activity. There is no connection between the incidents."

The IDF Spokesperson responded: "Safety-related incidents are investigated and taken very seriously. Lessons are passed on to all forces on the ground in order to prevent such incidents in the future."

In a separate incident on Monday, a soldier was moderately wounded by a bullet emission at an army post in the southern section of the Gaza Division. The Military Police are investigating the episode.