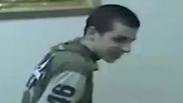 Hamas publishes new video of Gilad Shalit in captivity
All five Hamas militants who guarded Gilad Shalit during his captivity have been killed, the last of whom - Abed el-Rahman Mubasher – died on Monday when a tunnel collapsed. Following his death, Hamas published a film showing Mubasher with Shalit.
Hamas has released new footage of Gilad Shalit during his time in captivity in the Gaza Strip, after one of the militants guarding him died in a tunnel collapse in Khan Younis in the southern Strip on Monday.

A total of five members of Hamas's armed wing guarded Shalit in the five years following his kidnapping, all of whom have now died at different times under varying circumstances – some during the captivity period and others after Shalit was released. It is not known if Shalit had additional guards whose details have not been released by Hamas.

New footage showing Gilad Shalit during his period of captivity

The new footage shows Shalit with the militant killed on Monday, Abed el-Rahman Mubasher, at two different times. In both scenes, Shalit and Mubasher are smiling and wearing civilian clothes, and appear to be in an apartment. In one of the scenes, Shalit is standing and behind him a gold blind can be seen. The blind could be covering a window, which would indicate that Shalit was not in a basement. However, this is probably for appearances only.

This is not the first film showing Shalit in captivity. Several months ago another film was released in which Shalit was seen with the commander of the southern unit in Hamas' military wing, Mohammed Abu Shamaleh, and the commander of the Rafah unit, Raed al-Attar.

Both were killed during Operation Protective Edge last summer. The pair was among the commanders who carried out the operation in which Shalit was kidnapped.

Sami Hamida was the first of Shalit's guards to be killed, after he was hit by an Israeli airstrike in January 2008. The second was Abdallah Lubbad, who was killed along with his brother Ismail Lubbad – a senior figure in Hamas' military wing – in another Israeli airstrike that hit their car in Rafah in 2011, half a year before the prisoner exchange deal with Israel.

Two years after the prisoner exchange, towards the end of 2013, two more of Shalit's guards were killed – Khaled Abu Bakra and Mohammed Daoud, who were staying in a tunnel in Khan Younis belonging to Hamas' military arm when it was blown up by the IDF. Other Hamas militants were also in the tunnel at the time.

It may be that the release of the short film is intended to put further pressure on the families of fallen soldiers Oron Shaul and Hadar Goldin, whose bodies are currently being held by Hamas in Gaza, as well as the family of Avra Mengisto. The latter likely fell into the hands of Hamas in the Gaza Strip after crossing the border fence between Israel and the Strip over a year ago.