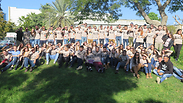 srael's newest lone soldiers
Photo: Photo: Tzofim - Scout Movement
More than 70 young Jews have made aliyah to Israel over the last few days in order to join the IDF as lone soldiers. The new olim have come to Israel as part of a project by Tzofim, the Israeli Scouts movement.

The new arrivals have come from all over the world, including Germany, the UK, the US, South America and more. They are joining around 2,800 other lone soldiers who have arrived from across the globe and who are now serving in the IDF. Most of them also arrived as part of Tzofim's project, which is marking 25 years since its founding.

Golden Age

Melba Landa made aliyah from Moscow after devoting her life to fighting for Soviet Jewry and for human rights in the USSR and modern Russia.

Eli Winegar, a 23-year-old who arrived from Los Angeles, said: "About a month ago I completed the Ironman challenge that includes running a marathon, swimming a distance of four kilometers and cycling 180 kilometers.

"With all that, one of the most difficult things I've ever had to do is leave my family and friends in order to fulfill my love for Israel. Despite the terror I feel protected here. My only fear is not from terrorists but the drastic change I've made in my life, and if I'll cope day-to-day," Winegar continued.

"My dream is to serve in Sayeret Matkal or 669 (the IDF's primary rescue unit)."

Yael Newman, 21, is a paramedic from Australia. "I was actually born an observant Christian and ended up in an orphanage in Romania because my biological parents weren't able to bring me up.

"I value Christianity greatly, but I didn't love it. The fact that I was adopted by a Jewish family at the age of six opened me up to an amazing world that I can't imagine my life without," Newman continued.

"Now I have an opportunity to help the country that I see as home. As I was a paramedic in Australia, I want to serve as a medic."

Lea Duxler, 22, is a model from Austria. "Anti-Semitism is occurring in many places. Sometimes I was exposed to expressions of anti-Semitism that I felt endangered my life, and sometimes people became cold and distant when they heard about my Jewish identity.

"Almost every member of my grandfather and grandmother's family was killed in the Holocaust. My grandfather survived the Holocaust at a weight of 38 kilos," Duxler said.

Shani Birnbaum,18, from Germany: "Aliyah to Israel is very profound and I'm already waiting for the moment I will arrive at my kibbutz for the first time. We are all waiting impatiently to finish the preparations and selections to join the IDF as soldiers, and protect the country that is our home."

Over the last 25 years more than 3,000 young people have made aliyah to Israel with the Tsofim project in order to recruit as lone IDF soldiers. Last summer 318 new recruits arrived – 166 men and 152 women. Fifty-one percent of the young people who made aliyah in August joined combat and patrol units.