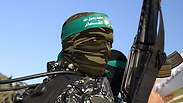 Hamas has decided to up the ante in the wave of ongoing violence and terror attacks and start launching suicide bombings against Israeli targets, sources in the terror organization told Arab media on Thursday.

Ynet has already reported in October that Hamas had instructed its operatives in the West Bank to commit suicide bombings against Israel, but this is the first time the organization publicly admits to it.

According to the Hamas sources, sleeper cells in the West Bank received instructions to attack Israeli targets within the Green Line that were selected in advance. Among these targets are senior officials in the Israeli political and defense establishments.

One of these cells was discovered and arrested by the Shin Bet and IDF in Abu Dis earlier this month. Israeli security forces also uncovered a large explosives lab the cell was using. The cell, according to the Hamas sourcs, was close to launching a suicide bombing within the Green Line.

The officials claimed that the only reason the members of the cell were caught was that one of its members told a member of the Palestinian security forces of the cell's existence, asking him to obtain fake permits for him and the other cell members.

The sources said Hamas would continue in its efforts to launch bombings by planting explosives or using suicide bombers. Hamas believes the other terror cells would not be exposed because their members have no record of security-related offenses that would make them suspects.

The Hamas officials also claimed that the Palestinian Authority's security forces aided Israel in catching the Hamas terror cell from Nablus that was behind the murder of the Henkin couple. According to the sources, PA security forces arrived at the hospital in Nablus where one of the cell members was hospitalized after accidentally being hit by gunfire during the attack and questioned him about his injury. Despite providing them with a cover story, he was arrested shortly thereafter by undercover Israeli troops.