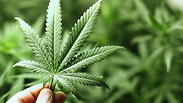 A US pharmaceutical company announced Wednesday that its medical marijuana has been certified kosher by the Orthodox Union (OU).
Vireo Health, one of the five companies permitted to market their medical marijuana in the State of New York stated that this is the first time medical cannabis has been certified kosher and as such it is in fact the first producer of kosher marijuana.
Seal of Approval
Religious Zionism leaders say patients can continue consuming cannabis during year in which land in Israel must lie fallow.
US media reported that the rabbinical association gave its certification after inspecting facilities manufacturing company's facilities and found that the marijuana is grown and produced according to the laws of kashrut. For example it is entirely free of insects.
"Being certified kosher by the OU will not only help us serve the dietary needs of the largest Jewish community in the United States, but also combat unfortunate stigmas associated with medical cannabis," said Vireo CEO Ari Hoffnung in a statement delivered to the press.
He added that kosher marijuana will deliver an "important message" to those who mistakenly believe that use of the product for patients suffering from pain promotes recreational use of drugs.
Rabbi Menachem Genack, chief executive officer of the Orthodox Union, said that "using medical cannabis products recommended by a physician should not be regarded as a chet, a sinful act, but rather as a mitzvah, an imperative, a commandment."
Vireo expressed hope that the approval will help the company serve its Jewish patients in New York, where the largest Jewish community in the US lives. The product will be on the shelves in about a month, available with a doctor's prescription.
No kosher certification in Israel yet
The United States has seen a veritable revolution in recent years regarding the use of soft drugs. About half of US states allow the use of medical marijuana, and in 2012, two states, Washington and Colorado, legalized the sale of marijuana to those 21 and older without a doctor's prescription.
From a religious standpoint there should not be a problem certifying marijuana as kosher as it's a plant, and like all plants grown overseas, the laws of shmita (every seven years the land in Israel must lie fallow – ed.) and tithes do not apply. When they reach their natural form they are kosher for eating or smoking.
In Israel there are several manufacturers who market medical cannabis, but so far the Chief Rabbinate has not certified the product.