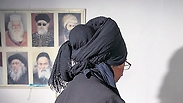 The wife of the main suspect in the Dawabshe murder case
Wife of main Duma suspect: We want a halachic state, but we don't burn people
She grew up in an outpost from the age of 13, got married in the same venue that the 'wedding of hate' took place in and started a family in a truck that had been converted into a residential unit. Three years ago she was indicted for taking part in 'price tag' activities and her husband is now the main suspect in the arson attack on the Dawabsheh family's house.
Outside the hall of Judge Erez Nurieli, right at the entrance, officials had placed a tiny sign reading "behind closed doors." It's a typical courtroom on the second floor of the Magistrate's Court in Petah Tikva, which is next to a large shopping mall and opposite Beilinson Hospital. The room is furnished with a wooden bench, a bench for police representatives, opposite that another bench for attorneys, and behind a glass wall sit suspects who are under arrest. The judge is seated above everyone on a high platform.

There is nothing particularly unique in the courtroom of Nurieli, who for over a month has been presiding over one of the most serious cases of Jewish terrorism yet seen in Israel. The hearings are held behind closed doors, off-limits to both the media and the public.

Also a secret is the identity of the central suspect in the murder of three members of the Dawabsheh family from Duma. He was brought to Nurieli's court on Wednesday, when a prosecutor's statement was filed against him that over the next few days will lead to an indictment. We are not allowed to see him. Perhaps he has been beaten, with visible signs of bruising on his body, and is in a poor mental state due to the torture he claims he has undergone during Shin Bet interrogations. And maybe his well-known smile, seen in a photo that shows him on a swing with his baby daughter, is still on his face.

It's not just a sign that has been placed outside the door to the courtroom. A security guard, too, stands there and prevents everyone from entering, save for authorized officials.

Throughout the long and exhausting wait outside the courtroom, there seemed to be only one small moment of drama inside. The wife of the suspect came running out of the hearing, quickly scooped up her baby daughter who was being looked after by a good friend, and ran back inside with her. A few hours later, in the couple's small apartment in an ultra-Orthodox neighborhood of Jerusalem, she said in her quiet voice that after she asked the judge, he allowed her to bring her daughter in for a few moments so she could see her father.

"He's very close to her, very involved in her upbringing," she said. "He plays with her, tells her stories, spends a lot of time with her. Everyone in the courtroom became very emotional when he held onto her tightly, and hugged and kissed her."

At the beginning of next week, provided there are no last-minute developments, her husband will be indicted. He is the central suspect in an investigation into Jewish terrorism, at the heart of which stands the Duma arson attack. Only then will the restrictions and gag orders be removed, and we will be able to get a picture of who the Shin Bet and the State Attorney claim carried out the horrific murder. For now, this interview takes place under legal restrictions. Not all the questions can be fully answered. Nonetheless, it provides a peek into the world of the main suspect, his worldview and lifestyle, and the claims that he is innocent of all charges.
'We break borders'
He is 21 years old and grew up in Gush Etzion. She is 22, and grew up in Jerusalem. Their daughter will turn one on Saturday. They are well-known among the hilltop youth, who left a comfortable and warm home in favor of illegal outposts that were erected one after another in the West Bank.

"The two of us were hilltop activists, but we didn't know each other. We had friends in common, a married couple, who set us up. I knew who he was but we hadn't spoken before then," she says. From that point, they didn't hang around like their contemporaries. A short time after they decided to get married, chose a date and rented a venue. Their chosen venue was "Shirat Jerusalem," the same place in which the now-notorious Ashbal wedding took place. At that event, wedding-goers were seen dancing with guns and knives and a picture of Ali Dawabsheh was held aloft with a knife through it.

"When I was about 13, I found a synagogue pamphlet that spoke about the land of Israel and the importance of settling it," she says. "That's how I came to be a hilltop activist. I searched for the truth and found it there."

What is the truth?

"That the land of Israel belongs to the people of Israel by divine command. So when I take a hilltop and settle on it, I bring a table, a few chairs, I build a small hut or put up a tent. That fulfills a command. I'm allowed to be there, to hold onto it, because it's ours. The 'hilltop youth' don't want to live in established settlements, behind fences, one on top of another. We break ground, break borders. It's a matter of faith. That's why I was there from the age of 13.

"I've been in the Gibborim outpost in Hebron, Ramat Migron in Binyamin, Mevaseret Adumim in E1, Maoz Esther next to Kochav HaShahar and Geulat Zion with my husband. They're all hilltop outposts that were erected, demolished, rebuilt and demolished again. I also did my national service guiding girls at a school in the settlements.

"My husband is known around the hilltops. He arrived there at the age of about 16 and took the same path. He studied at a yeshiva and then left in order to go to the hilltops," she continues.

While he was at Ramat Migron, the main suspect was acquainted with Meir Ettinger, who the Shin Bet claims is at the head of "The Revolt," a group of young people opposed to the Israeli government and its institutions. They aspire to establish a state based on Jewish law and to crown a king of Israel. Ettinger has been in administrative detention since the Duma murders.

"My husband has known Meir for many years," she says. "They are absolutely friends." The ideology is the same one. The main suspect has been arrested and indicted in the past after opposing security forces during outpost evictions. He refused to show up to the court hearings on the principle that he doesn't recognize the authority of the Israeli court. He requested instead to be judged in a rabbinical court.

The suspect's wife has also clashed with security forces during outpost evacuations. Three years ago, she was indicted for conducting a "price tag" activity in a Palestinian village in the northern West Bank, which included vandalizing a car and spray-painting graffiti against the prophet Mohammed. According to the indictment, she carried out the action along with the sister of the bride from the "wedding of hate." If her husband were not under arrest, it is reasonable to assume that the two of them would have been among the guests at that wedding.

"Yes, we want a state based on Jewish law here, and a king as written in the Torah. But we are not anarchists, without a care. We aren't against the law, neither me nor my husband. We don't do whatever we feel like, burning and attacking people. What happened in Duma is a serious incident and I'm against it."

They got married two years ago and lived in Geulat Zion, an outpost established on a hilltop in the Shiloh Valley, between the Ahiya, Adei Ad and Esh Kodesh outposts.

"My husband brought wooden boards and built our house with his two hands. He learned how to build in the hilltops. We had a simple hut. Another two families lived there with us, along with a group of singles, five or six guys who came and went. It's real pioneering. No electricity, no foundations. Nothing. And no complaints," she says.

"A month after our wedding, the police arrived en masse and demolished our house. They came in the middle of the night and demolished everything along with all the equipment inside. They evicted us five times and destroyed everything, and after every expulsion my husband built the house again from scratch with friends. At the same time, he was building in Shiloh, in Kida, in Ahiya, going to study Torah alone in the outpost.

"After our daughter was born, dealing with the demolitions and evictions became hard. They came in winter, summer, always in the middle of the night. So we went to live in a truck that had been converted into a residential unit a few hilltops away, not far from Geulat Zion.

"It's a truck with a squeaky wooden floor and a simple door that doesn't lock and makes noise every time you open or close it. If my husband got up in the middle of the night or went out, I would hear the floor squeaking as well as the door. There's no way I wouldn't hear that. I also slept lightly, because I was afraid of the security situation. We couldn't lock the truck and Malachi Rosenfeld was killed not far from us. And aside from that I'm still breastfeeding and wake up for the baby several times a night."

How did you hear about the murder and arson in Duma?

"I woke up at 4:30am in order to give friends from Geulat Zion a ride to a spring close by. In the morning my mother called and told me that there had been an arson incident in Duma and that Arabs are rioting and we should be careful."

Did you talk about it with your husband?

"No, we knew from her that it had happened but we didn't delve into it. We don't have a television or the internet in our home. There was talk that it was Arabs, that there were disputes in the village, that a graphologist said that Arabs had spray-painted the writing there. That's what I heard."
Ben Gvir: A long way to go before this is solved
They moved to their new place in Jerusalem a few months ago. They're in old housing, on the fourth floor in an apartment that is divided into two. Their portion is barely 30 meters. There is a playpen in a small room that looks like a lounge, a few chairs and a table full of Torah books. It's a life of poverty. Since their move, it seems their faith has strengthened, that they've become more Orthodox. Her husband had started studying in an ultra-Orthodox yeshiva and continued to work in construction.

His arrest took place in front of her, on a tumultuous morning. "My husband has no license and he doesn't drive. Anyway, that morning I gave him a lift to the yeshiva and when we were nearby he got out of the car and started to walk. Two people approached him and suddenly one of them punched him in the stomach. They grabbed him and wrestled him to the ground. At the same time more people started to run over to them from every direction and everyone jumped on him and beat him," she recounts.

"I was stunned. I got out of the car and started shouting, 'What are you doing to him, who are you?' I thought it was a terror attack, but very quickly some of them put on police hats with visors and I realized that it wasn't."

When did you realize he had been arrested over Duma?

"When I spoke to Itamar Ben Gvir, the lawyer. I was shocked. My husband is a good father who cares for our daughter. Even now, in the few times I've been allowed to see him in hearings since the ban on his meeting a lawyer was lifted, he always asks about her. He's invested in his Torah studies, he's not one to do something like that. Everyone that knows him, who hears he's under arrest, doesn't believe that he has anything to do with it.

"Listen, for three weeks I didn't know what was happening to him. I said to myself that if they can attack him in the middle of the street in front of passersby, they are surely attacking him in their basements. But even though I thought that they were abusing him, I hadn't imagined that he was going through what he said they did to him. When Ben Gvir came out from his first meeting with him, he was shocked. He asked friends to come over to mine before he called me to tell me what he had heard from (my husband), so that I wouldn't be alone."

How did you react?

"I went into shock. I cried and yelled, 'It can't be possible.' He told me about beatings, about being tied to a Procrustean bed, about sexual harassment by a female interrogator, that he screamed and suffered an inferno, that they degraded him, shouted at him and didn't stop. I don't know if he's confessed, but if he has it's only because he can't take any more torture. He wanted them to stop beating him and abusing him. Every time he gave them an answer that wasn't good for them, they continued beating him."

Why did they arrest him specifically? They could have chosen someone else.

"I don't have an answer as to why they chose him specifically, but I do know that it's because he lives on the hilltops and we are politically separate. They blame us because we have big yarmulkes and sidelocks."

Ben Gvir strikes the same tone. "I assume that next week the Shin Bet and the State Attorney will want to present a picture of a solved case, so I suggest that they internalize the fact that this is far from resolved," he says. "The evidence submitted by my client, who has undergone severe abuse, is not permissible and cannot form the basis of a charge. As for whether it is moral and legal, we indeed cannot know the truth about that night in Duma, since the investigation did not uncover the truth but rather caused innocents to admit to something they didn't do."

The Shin Bet fiercely rejects the claims. "The interrogation of the suspects has been conducted under the precise legal and judicial supervision of the Attorney General, the State Attorney and other attorneys who have closely observed the investigation, as well as the courts," the agency said.

"All investigative materials will be submitted to the proper officials at the Ministry of Justice."