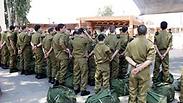 Illustration. IDF soldiers on base. (Photo: Shaul Golan)
Photo: Shaul Golan
The aid budget for soldiers will increase slightly in 2016, going up to over NIS 400 million, according to a senior officer in the Manpower Directorate. Most of the increase will come from the defense budget, with the rest being made up by donations.

Additionally, following an agreement between the IDF, the Defense Ministry and the Finance Ministry that was sealed in the last few weeks, non-commissioned officers will also receive wage increases.

Monthly wages for conscripts will go up by NIS 1,616, while combat support soldiers will receive an increase of NIS 1,176. Rearguard soldiers' monthly wages will go up by NIS 810.

The upcoming changes to the budget for needy soldiers will allow the IDF to redirect funds to new programs. The money will be used to provide coupons for Rikushet, a chain of camping stores, for reductions on basic items such as flashlights and combat gear, as well as for other essentials such as razors that soldiers can purchase on base.

The coupons will be distributed to whomever is identified as being in need, for example "those who arrive to bases with an empty rucksack as opposed to other soldiers whose families can provide them with equipment," said an official familiar with the plan.

The goal of providing these coupons is to reduce the phenomenon of soldiers stocking up on equipment before their recruitment at their parent's expense, as well as to reduce gaps in soldiers' appearances.

The department responsible for the program is also planning further price reductions for on-base stores.
Every fifth soldier needs assistance
It was also announced that a program to assist soldiers whose houses have been disconnected from electricity or water because they were unable to pay their bills will also be set up this year. The program, which will be funded by donations from the International Fellowship of Christians and Jews,

The aid will come in the form of bill payments. Soldiers in need will be able to broach the subject with their commanding officer or with their unit's social worker.

The IDF has seen no change in the number of soldiers needing assistance in the last year. One in every five soldiers requires financial aid from the army.

There are currently 6,260 lone soldiers serving in the IDF. Three thousand soldiers receive regular family payments, and 20,000 have a permit to work outside the hours in which they are active with the army.