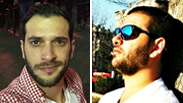 Alon Bakal and Shimon Ruimi, murdered in a shooting attack in Tel Aviv
A shooting attack at a busy bar in central Tel Aviv on Friday afternoon killed Alon Bakal and Shimon Ruimi, as well as wounding at least six others, two of them seriously. The search for the suspect, a 29-year-old Arab-Israeli from the north of Israel, is ongoing.
Bakal, 26, was the manager of the "Simta" bar at which the attack took place. Ruimi, 30, had come to Tel Aviv for the weekend from his hometown of Ofakim in the south, in order to celebrate a friend's birthday.
David Bakal, Alon's father, spoke with reporters on Friday evening, telling them that he felt the need to tell them about his son despite the relatively short time that had passed since his murder.
"Everyone talks about their child, but he was a special child, he was our world. He gave light to whichever place he was in and he made everyone around him smile."
David said that his son was due to start interning at a law office. Yesterday evening Alon had sent his father a message on Whatsapp to tell him that he was celebrating New Year's Eve, writing: "It's great, it's fun, I love life."
David added that he heard about the attack just as he was helping his other son move apartment in Tel Aviv. "Just as I was putting the last things in order, a friend of his called and said, 'listen, there's been an attack in Alon's bar.' His brother ran to the bar and found him lying on the ground.
"We waited for the ambulance to arrive. When I saw my child, I could see that he wasn't alive."
Alon's employer, Marom McKenzie, said Friday evening: "We loved him very much. He hadn't been working with us long, but he won everyone over very quickly."
Shimon Ruimi, who was also killed in the shooting, was the third of four children – two boys and two girls. He was a civilian employee of the IDF. A friend of his family, Charlie Alfasi, said that Shimon and his friend Israel Avitan came to Tel Aviv in order to celebrate their friend Ariel's birthday.
"They were supposed to be with us Friday and Saturday, and we went down to the bar. Right after the waiter brought them their drinks, the terrorist started shooting at them. Shimon was killed and they were injured."
'I crawled into the kitchen'
Israel Avitan, who was lightly wounded during the attack, spoke with Ynet while at the Tel HaShomer Hospital.

"We met up in order to celebrate Ariel's birthday, a friend of ours. He invited a lot of people. (Shimon) went outside to smoke. I sat with him. I heard shots and felt something burning in my back. I fell and didn't see anyone standing.

"I crawled into the pub and all the chairs were turned over. We all went into the kitchen and hid there until the security forces arrived," Avitan continued.

"The bullet entered and exited from my back," said Avitan. "It's surreal, we got through Lebanon, we got through Gaza, and in Tel Aviv it happens to us. We've gone through so many things and then suddenly a bar in Tel Aviv on a Friday afternoon…"

Eli Senyor, Noam (Dabul) Dvir, Shahar Hai, Itay Blumenthal, Reut Rimerman, Yoav Zitun and Rotem Elizera contributed to this report.