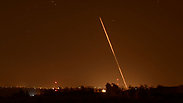 Illustration. A rocket launch from the Gaza Strip (Photo: Avi Roccah)
Photo: Avi Roccah
Two Gaza-fired rockets hit Israel, IDF retaliates
An unusually high number of rockets was fired in one volley from the Gaza Strip on Friday evening, with only two falling in Israel and at least two more falling short and landing inside the Gaza Strip. No injuries were reported. The IDF later retaliated with air strikes against Hamas targets.
Two rockets fired from the Gaza Strip exploded in Israel on Friday night, in the south's Sha'ar HaNegev Regional Council. No one was injured and there were no reports of damage.
A further two rockets at least were thought to have fallen short and landed inside the Gaza Strip. The number of rockets fired in one volley is unusual in the relative quiet that has persisted since the end of Operation Protective Edge.
Several explosions were heard after a rocket alert sounded at 11:07pm in Sderot and communities in Sha'ar HaNegev. Residents were told to enter shelters and safe rooms.
Hours later, the Israeli Air Force struck several terrorist targets belonging to Hamas inside Gaza.
About a week ago one rocket was fired towards Israel from Gaza, but fell inside the Strip. The week before that rocket alerts were heard in the Sha'ar HaNegev regional council and one rocket exploded close to the border fence inside the Gaza Strip. Four days before that a rocket exploded in an open space in the same area.