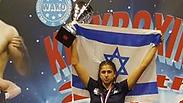 Nili Block, world kickboxing champion
Two months ago Nili Block, 20, went to the scene of the final fight in the kickboxing world championships wearing a vest with a Superman logo on it. After a few minutes she'd already defeated her Croatian opponent, Maria Malnika, becoming the world champion in the 60 kilogram category.

"In truth I felt that I'd already won the championship in the semi-final," Block said. "It was the hardest fight for me. For the fourth time in my life I was up against Helena Mortova from Belarus, who is a six-time world champion.

"The time had come for someone else to take the crown from her, no?" Block continued. "After I beat her the rest was a piece of cake and I was more confident in myself. When I was a soldier there were those who put me down because of the relief I got for being an outstanding athlete.

Different Worlds

In the morning, Rabbi Yaakov Lupolianski teaches Torah at Bnei Akiva yeshiva. In the evening, he turns into a tough Muay Thai instructor

"I remember telling myself that one day they would hear about me on the news. And here after a few months, I accomplished it."

It's a meaningful accomplishment in a career that stretches back 10 years. Block was born in Baltimore in the US, the last out of six siblings. When she was two, the family made aliyah to Israel. They settled down in Beit Shemesh, where Block said she was a "tomboy and very sporty."

She worked out in local basketball and baseball leagues and loved soccer most of all. "I saw soccer as my future. I worked out next to Sacher Park in Jerusalem and it was my main pastime."

At the age of 10 Block's mother took her for the first time to a Muay Thai boxing session, where she met the person who would become her trainer until today, Benny Cogan. At 11, her parents divorced, and her training helped her deal with the new situation, even becoming a refuge from the house.

"I trained myself and saw the older girls as role models. I came at the age of 11 and they were already in college or doing national service. I wanted to be like them and do what they were doing," Block said.

"Slowly they became my second family, it was a world into which I could escape from the divorce. I learned from them what maturity is and it made me into who I am.

"They are still my friends today and a big part of my life," Block added.

You came from a religious home. How did your family react to your hobby?

"It wasn't a surprise. I was always an athlete and everyone accepted it lovingly. My father is religious and my mother newly religious, but that didn't make any difference to how they accepted my boxing hobby."

Block's teachers and friends were also supportive of her intensive hobby. "It was difficult for me to concentrate on my studies," she said. "When I was in seventh grade I was accepted into school on the condition that only if I improved my grades would they keep me.

"When I started to apply myself in sport I learned how to succeed and my grades started to go up too. When you are involved in sports your mentality changes and you have to succeed at everything in every field," Block said.

"So I continued at my religious school and they were also very accepting."

What did the religious school think about you boxing?

"I had a friend who wanted to play basketball and the school head agreed to send us to another institute in Beit Shemesh where we could learn sports. It was a secular institute. It was a very brave step to send us there."

How do you define yourself, religiously-speaking?

"I define myself as religious but I also believe that everyone has their own faith. I have faith, keep kosher and keep Shabbat, and I try to maintain this connection."

What have you been forced to give up?

"On my social life. When my friends go out on Thursdays I can't join in, because I have training on Friday morning. I've also been injured and had physiotherapy. But every path is difficult and you have to undergo trials and failures in order to succeed at the moment of truth."

Is it possible to combine a love of sport with a love life?

"I've had to give up many things, and unfortunately this is one of the things I don't have time for right now. I am looking for relationships and I want a love life, but it's very difficult for me to make it happen."

What's your motto?

"I have a motto for every situation: 'Don't worry, be happy.' It's something my grandfather always said to me, and after he passed away it stayed with me."