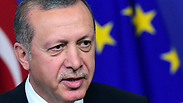 Turkish President Tayyip Recep Erdogan
Turkey must accept that it needs Israel, President Recep Tayyip Erdogan said Saturday, as the two countries seek to thrash out a deal on normalizing ties.

NATO member Turkey was a key regional ally of Israel until the two countries fell out over the deadly storming by Israeli commandos in 2010 of a Turkish aid ship, the Mavi Marmara, bound for Gaza.

Erdogan further raised hackles in Israel with his sometimes inflammatory rhetoric towards the Jewish State. But the atmosphere was transformed following the revelation last month the two sides were making progress in secret talks to seek a rapprochement.

"Israel is in need of a country like Turkey in the region," Erdogan said in remarks to Turkish reporters published in leading dailies Saturday.

"And we too must accept that we need Israel. This is a reality in the region," said Erdogan. "If mutual steps are implemented based on sincerity, then normalization will follow."

Ambassadors were withdrawn in the wake of the 2010 crisis and Erdogan said Turkey's three conditions for a normalization were clear - a lifting of the Gaza blockade, compensation for the Mavi Marmara victims and an apology for the incident.

Israel has already apologized and negotiations appear to have made progress on compensation, leaving the blockade on the Hamas-ruled Gaza Strip the main hurdle.

Indicating possible progress on the blockade, Erdogan said Israel had suggested it would allow goods and construction materials into Gaza if they came via Turkey.

"We need to see a written text to ensure there is no deviation from the agreement," he said.

Analysts have suggested that Turkey's rapprochement with Israel has been accelerated by the need for Ankara to make up for its crisis in ties with Moscow after the shooting down of a Russian warplane.

Erdogan last month held closed-door talks with Hamas chief Khaled Mashal but it was never disclosed what the president discussed with the leader of the the Palestinian Islamist movement.

Israel also wants Turkey to prevent senior Hamas operative Salah Aruri from entering its territory and acting from there.

Ankara has never confirmed his presence in Turkey.