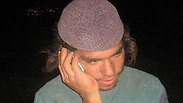 Amiram Ben-Uliel, 21, from Jerusalem, was charged with the murder of the three members of the Dawabsheh family in Duma, and has confessed to the crime and recounted it to investigators.

Ben-Uliel, married and a father of a baby girl, recently became more observant, and he and his wife are among the followers of Rabbi Eliezer Berland.

Those who know him say he is a close friend of Meir Ettinger, the grandson of Rabbi Meir Kahane, who is considered one of the prominent figures in the "Revolt" group that is behind a series of Jewish terror attacks.

"The investigation here has not been simple, and it is my understanding that the confessions he made were inadmissible," said a former employer of Ben-Uliel. "This is a man who works with his hands, who loves the settlements and the land of Israel. He didn't give me the impression of someone who can commit actions like this."

He was caught in the past violating an administrative order barring him from entering the West Bank, and claimed at the time that he does not heed the orders of the Zionist court.

He was also charged with hindering a public official in the line of duty when he confronted with IDF officers during an evacuation of one of the outposts in the Shiloh area.

Palestinian TV airs clip of what is believed to be Ben-Uliel recounting the murder at the scene

Ben-Uliel used to live in the outpost of Geulat Zion. He is known among the "hilltop youth" after spending time in te outposts of Adei Ad, Esh Kodesh and Kida - all in the Shiloh area. He made a living doing odd construction works.

Shortly before his arrest over the Duma arson, Ben-Uliel moved from the West Bank to Jerusalem with his wife and daughter, and started attending a yeshiva, where he became even more observant.

Ben-Uliel's wife, Oriyan, has also taken part in "price tag" activity in the past. She was charged with committing a "price tag" attack with another woman at the village of Al-Lubban ash-Sharqiya, including vandalizing Palestinian property and spraying graffiti writings.

Ben-Uliel's wife, Oriyan, said on Sunday that her husband "went through serious and very grave torture, during which they extracted confessions out of him of things he did not do. I saw how they beat him mercilessly right in front of me, and confiscated cameras so there wouldn't be any proof."

"He felt like he was about to die, they were simply without mercy, while he was screaming they beat him and kept on beating him," she continued.

"This confession is not worth anything because he didn't do it. I know he was home that night. This entire story is lies and political persecution," Oriyan concluded.

Ben-Uliel parents live in the settlement of Karmei Tzur in Gush Etzion, and have not spoken to him since his arrest. His father Reuven is a rabbi at a yeshiva in Karmei Tzur.

In a statement they made on Sunday, his parents said they were "shocked and outraged by the suspicions attributed to our beloved son."

"We believe in our son's innocence, which will come to light at court, and hope that the court is exposed to the serious torture he underwent during the weeks of his interrogation," the parents said.

"The indictment is not the final word on this, but the opening of a Pandora's box by the Shin Bet," said Itamar Ben-Gvir, who represents Ben-Uliel. "I suggest the Shin Bet not to start celebrating too quickly - the Bus 300 affair, the Amos Baranes affair and even the Bar-Noar shooting teach us that there are cases in which the system does everything it can to prove it solved the crime even at the cost of incriminating innocents."