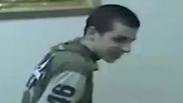 Shalit in the Hamas video.
For the second time in a week, Hamas has released new images of Gilad Shalit in captivity. This time, however, a significantly longer video was released, in which the Israeli soldier is seen with his guards in several instances. The highlight of the video is a few seconds featuring Shalit barbecuing meat in a courtyard with his captors.

New video footage of Gilad Shalit in captivity

Shalit is seen smiling in the video, eating in a comfortable atmosphere, talking to one of his guards, and watching television. He can be seen in a large but barred prison-like cell.

It may be that the release of the short films is intended to put further pressure on the families of fallen soldiers Oron Shaul and Hadar Goldin, whose bodies are currently being held by Hamas in Gaza, as well as the family of Avra Mengisto. The latter likely fell into the hands of Hamas in the Gaza Strip after crossing the border fence between Israel and the Strip over a year ago.