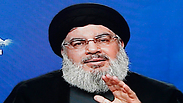 Hezbollah leader Hassan Nasrallah
Photo: EPA
For the past few days, the IDF has been performing controlled bombings in the Lebanese border region. These include artillery fire into open areas, and are meant to prevent Hezbollah from exploiting the stormy weather Israel has been experiencing lately in order to execute attacks aimed at avenging Samir Kuntar, a senior Hezbollah member who was recently assassinated. Hezbollah leader Hassan Nasrallah has publically accused Israel of being responsible for killing Kuntar.

Nasrallah continues to threaten Israel, saying in a Sunday speech that "The power of Samir al-Kuntar's blood still forces the soldiers and officers of the enemy to hide in burrows all along the border. They wait and we wait. They are afraid. Now the rain has come and put an even heavier load on them. They are trapped even more in their burrows, but we are waiting too, and Allah loves those who wait." He added that "it's important that they understand that the murder of our brothers and shedding of our blood will not pass by easily, and the Israelis should be fearful and hide."

Nasrallah ended by saying, "The response is coming, it Allah wills it."

This was the third time Nasrallah threatened to avenge the Kuntar assassination. He warned Israel in similar fashion during Kuntar's memorial that happened a week after his death.

IDF Chief of General Staff Gadi Eizenkot warned Hezbollah last week, saying: "Our soldiers stand in the face of murderous terrorism every day with courage and determination. Beyond our borders as well, in the face of the threats from the north, we are prepared for any challenge.

"As we proved in the past, we will be able to strike at anyone who wishes to hurt us. Our enemies know that if they attempt to shake Israel's security they will bear the severe consequences."

Prime Minister Benjamin Netanyahu said last week, in a hinted message following Nasrallah's threats to avenge Kuntar's death, that "We are working against those who work against us, and all of our enemies should know that we will respond aggressively to any attack on us."

Yoav Zitun, Ahiya Raved and Roi Kais contributed to this report.