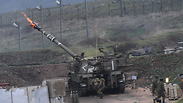 IDF firing artillery at Lebanon
Photo: Avihu Shapira
A large roadside bomb exploded near an IDF force at the Lebanese border near the Shebaa Farms area on Monday afternoon, leading the IDF to fire artillery shells at Hezbollah targets in the area for about an hour.
The explosion targeted an IDF's Caterpillar D9 armored bulldozer and another armored vehicle. No soldiers have been hurt in the incident, the IDF said.
IDF Engineering forces cordoned off the area and searched for any additional explosives.
IDF firing artillery fire at Hezbollah posts in Lebanon (צילום: אביהו שפירא)
Lebanese media reported considerable Israel Air Force presence in the area. Al Mayadeen quoted a Lebanese security source saying the IDF had fired artillery at a Lebanese military post in the Bastra Farm area on the outskirts of Kfarchouba. The TV station also reported casualties on the Lebanese side.
Lebanese security officials said more than 50 Israeli shells hit several villages in the area where the Hezbollah operation was carried out. Residents along the border said shelling from Israeli tanks and artillery landed in agricultural areas inside Lebanon, but did not report casualties.
"We fired artillery at Hezbollah targets near the border," an IDF spokesperson said. "It happened near Nahal Sion."
The spokesperson denied there was an attempt at kidnapping soldiers, anti-tank fire, or infiltration of terrorists into Israel.
The Lebanese terror organization Hezbollah claimed responsibility for the attack, which they say was committed by the "Samir Kuntar Brigades."
Samir Kuntar was a notorious Hezbollah terrorist who spent almost three decades in Israeli prison for the murder of the Haran family and an Israeli police officer. After his release in a prisoners exchange deal in 2008, Kuntar returned to terror, planning attacks against Israel in the Golan Heights.
He was killed in an airstrike in Syria, which Hezbollah attributed to Israel and for which it vowed revenge.
The UN peacekeeping force in Lebanon, UNIFIL, urged both sides to avoid an escalation, saying it had stepped up patrols on the ground after the incident.
In a statement, head of mission Major-General Luciano Portolano urged both sides "to exercise utmost restraint against any provocation."
The IDF has been conducting controlled explosions and firing artillery into unpopulated, empty areas in order to prevent Hezbollah from exploiting stormy weather to commit a terror attack in the border area.
Yoav Zitun, Roi Kais, Ahiya Raved and the Associated Press contributed to this report.