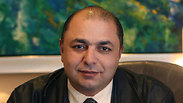 Arab-Israeli offers money for information on Dizengoff shooter
With the chase still ongoing for Nashat Melhem, the suspect in the Dizengoff shooting that killed two, the head of the merchants' committee in the Old City of Jerusalem has offered NIS 40,000 for whoever can provide information that will help in locating the terrorist. 'We need to forget this nonsense about Arabs and Jews, we want to live in peace,' Mazen Qaq says.
A cash reward for information that could lead to the capture of Nashat Melhem, the suspect in Friday's deadly shooting attack in Tel Aviv, was offered on Tuesday by Mazen Qaq, the head of the merchants' committee in Jerusalem's Old City.

The sum offered stands at NIS 40,000, and comes four days after the attack that killed Alon Bakal and Shimon Ruimi.

"This is someone who acted against Israeli citizens, and I won't allow someone like him to destroy trust and security," Qaq told Ynet. A resident of East Jerusalem, he emphasized that he sees himself as Arab-Israeli and not as Palestinian.

Qaq represents many business owners in the Old City, and reported a decrease in business as a result of the current intifada. He is looking to restore the faith between Jews and Arabs that has been damaged by the current events.

"The attacks have had a big impact on business. Revenue is down 70 percent and we estimate a loss of NIS 15 million among merchants. We want the situation to go back to what it was," Qaq said.

"We're cousins. We need to forget this nonsense about Arabs and Jews. We are all human beings, no matter what your religion is, we are one people. We give you a hand, you help us and we help you," he continued.

"I invite everyone to come and visit Jerusalem. We want to live in peace, hand in hand."

Police Commissioner Roni Alsheikh, in his first statement addressing the manhunt for Melhem, said on Tuesday that the level of tension in Israel's central Gush Dan region "can lessen considerably."

The police are, according to Alsheikh, "focusing on a single goal – to get our hands on the murderer. Anything that will interfere with or lengthen the chase, we won't do. Therefore the policy is to stop releasing details about the investigation."

On Tuesday morning the police arrested Mohammed Melhem, the suspect's father, along with five other people. Two of Nashat Melhem's brothers were also arrested in the last few days.