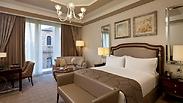 Waldorf Astoria in Jerusalem
Photo: Amit Goren
Israel reached a global milestone in the hotel industry in 2015 as the Waldorf Astoria in Jerusalem was ranked the seventh best hotel in the world in the Conde Nast magazine's 2015 Readers' Choice Awards Survey, which included 128,000 rankings.

The hotel's ranking caught Waldorf Astoria general manager Guy Klaiman by complete surprise. "It caught us by surprise because we didn't have any advertising in that magazine," Klaiman told Tazpit Press Service (TPS). "We had no relationship with the publication, which means that those who voted for us were obviously our customers."

The hotel is part of the Waldorf Astoria Hotels and Resorts luxury chain of hotels that are modeled with elegance similar to that of the Waldorf Astoria in New York. The Waldorf Astoria is Jerusalem's only internationally branded luxury hotel.

Klaiman told TPS that the hotel's inclusion in an international chain of hotels distinguishes it from other local hotels.

"When I say international, it might sound special, but there's a big difference between an international chain and a local one," Klaiman said. "Being international means that you are run through completely different standards that do not exist in Israel."

Hotels in Decline

Israel Hotel Association's statistics for October 2015 show a sharp 21% decline in tourist stays compared to same month in 2013. Decline in tourist entries into country is much milder, however. Where, then, are tourists staying?

Many of the amenities in Jerusalem's Waldorf Astoria, including some of the most basic items, had to be imported from abroad in order to abide by the highest standards of luxury.

"A lot of items that you see here are imported because they are not produced in Israel at the level of luxury required. Even the pillows are imported," Klaiman noted. "We stand out with the high standards of both our amenities and our service."

Klaiman asserts nevertheless that all of the fancy amenities alone would not suffice in making the Waldorf Astoria in Jerusalem a luxury hotel. "Luxury starts with the training, but continues with the attitude of the staff, the quality of the food, the quality of the amenities in the rooms, and the overall experience," stressed Klaiman to TPS.

"Luxury is not just buying the most expensive things in life," continued Klaiman. "Luxury is all about the fine details, and besides the amenities, we also offer fantastic hospitality."

Kleiman noted that high levels of hospitality and service would be enough to make any institution in Israel stand out. "Many other cultures have more of a service approach and we Israelis are not very famous for having a service approach," explained Klaiman to TPS. "It is important to us to give the best service in a culture where it is not easy to do so."

It was the perceived absence of a service culture in Israel that motivated Klaiman to return home after working abroad and to manage a hotel in Israel with an approach that puts an emphasis on service.

"One of the main reasons I came back to Israel was that I was motivated to show everyone that we can maintain service standards as high as those in Europe and the United States," Klaiman added to TPS. "This was a good opportunity for me to help demonstrate that we can provide very good service in Israel."

While the Waldorf Astoria has many of the characteristics of a luxury hotel abroad, it also expresses a unique local identity with its Jerusalem stone construction and the arches on its facade.

The Waldorf Astoria in Jerusalem also provides its guests with unique services that are not offered in other Waldorf Astoria hotels around the world.

"This hotel is also different in several ways than our other hotels around the world," Klaiman told TPS.

Jerusalem's Waldorf Astoria facilitates the observance of the Jewish Sabbath for its customers by equipping each room with an individualized Shabbat clock that allows guests to pre-set the lights in their room to go on and off before the onset of Shabbat. (Traditionally, it is forbidden on the Sabbath to adjust equipment that runs on electricity.)

The atrium in the hotel lobby also has a glass ceiling that opens during the Feast of Tabernacles, a holiday during which Jewish people customarily eat and sleep in Sukkot (booths).

The Waldorf Astoria is located outside of the Old City of Jerusalem at the site of the luxurious Palace Hotel that opened its doors in 1929 under the British Mandate of Palestine. The building ceased operating as a hotel in 1935 due to operational and maintenance costs and instead was rented out to the British government.

The Israeli government began using the hotel in 1948 as a location for several government offices, including the Ministry of Industry and Trade. The building was set to revert to its original function as a hotel in April 2008 followed by an announcement from Hilton Worldwide and IPC Jerusalem that a management agreement had been reached to construct Israel's first Waldorf Astoria branch at the location of the former Palace Hotel.

While Klaiman says that running a luxurious hotel is challenging, Jerusalem's Waldorf Astoria is not just about luxury.

"If you have the money, you can buy and offer anything to the world. But luxury doesn't mean much, if you don't have soul. We're fortunate that the Waldorf Astoria in Jerusalem has both," he told TPS.

Republished with permission from the Tazpit News Agency .