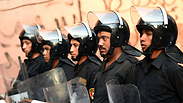 Archive photo of Egyptian policemen in Cairo
Masked militants fired at a group of dozens of Israeli tourists at the Barceló Three Pyramids hotel next to Cairo on Thursday, causing damage but no injuries. One gunmen was arrested at the scene and security forces are searching for the other individuals involved in the attack, who numbered about 20 according to the Egyptian Interior Ministry.
The ministry said that protesters aligned with the Muslim Brotherhood opened fire at and shot fireworks towards a tour bus and the hotel. MK Ahmad Tibi (Joint List) posted on his Facebook page that the tour group consisted of 45 Arab-Israelis from Umm al-Fahm, Jaffa and Kfar Qassem and that none of them had been injured. They are due to return to Israel today via the Sinai.
An Egyptian security official said that the attack was not organized and Israelis had not been purposely targeted.
Embassy officials in Egypt are trying to reach the Israeli tourists. No Israelis emissaries have been harmed and the incident is not thought to be related to the Israeli embassy or its staff.
One of the tourists, who was apparently on the tour bus at the time of the attack, said that they had originally thought the shots were in celebration of a holiday. Only after they saw that police were chasing after suspects did they realize the incident was actually an attack and started to go inside the hotel.
"It's normal for something like this to happen here. Where doesn't have problems?" the tourist said.
There has been no claim of responsibility for the attack.
In June last year, a suicide bomber blew himself up near the ancient Karnak Temple in the southern city of Luxor, wounding three Egyptians. A week earlier, gunmen on a motorcycle shot dead two members of the tourism police at Giza.