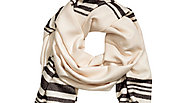 Shehecheyanu. The H&M scarf
Photo: H&M website
If it looks like a tallit and feels like a tallit – it's not necessarily a tallit: Swedish retail clothing company H&M is offering on its website a new scarf for women with a striking resemblance to a tallit, the fringed garment Jews have been wearing for generations during prayer.

But while the tallit is a religious Jewish item which is traditionally worn by men, H&M is marketing the item in its ladies' clothing department for $17.99 (or NIS 99, according to the company website).

The Swedish retailer didn't miss a thing, including the traditional beige color and black stripes, and even the knotted fringe (tzizit), and added a matching poncho for $35.

A tallit is usually made from pure sheep's wool and costs at least three times the price of the new scarf, but the H&M product is purely synthetic.

According to the Jewish Telegraphic Agency (JTA), This isn't H&M's first foray into prayer-shawl chic: In 2011, the fashion chain issued a similarly-styled women's poncho. Yet three years later, it was accused of anti-Semitism when it issued a tank top with a skull superimposed atop a Star of David.
'Is there a tekhelet option?'
The Racked website notes that the current religious fashion trend did not begin with Jewish prayer shawls, but rather with a different religion which inspired Dolce & Gabbana's abaya collection.

And let's not forget that in early November, leading fashion and lifestyle magazine Vogue crowned the ultra-Orthodox layering style as "an unlikely inspiration for Fall 2015's sexiest trend."

The feminine tallit managed to annoy some people, who wrote private protests, but made others crack jokes. "The Temple Emanuel Collection, exclusively at H&M," one person wrote on Facebook, according to Racked. "That is awesome. Is there a tekhelet option?" asked another on Twitter, referring to the blue dye used for some tzizit strings.

Eli Mandelbaum contributed to this report.