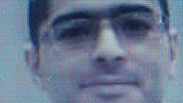 Nashat Melhem. Killed by counter-terror forces.
Nashat Melhem, the terrorist who killed three people in Tel Aviv a week ago, was shot dead by security forces at a mosque in Arara on Friday afternoon.

When Shin Bet and police counter-terrorism (YAMAM) forces arrived at the Wadi Ara mosque at around 4:20pm, Melhem exited the building, trying to escape, and opened fire at them with the same weapon he used to commit the Tel Aviv attack. The troops returned fire and shot him dead.






Shin Bet intelligence led the troops to the mosque.

Ynet security affairs correspondent Ron Ben-Yishai adds that Melhem had been in Arara since the previous Friday, the day of the attack, and changed hiding places twice. He was apparently aided by family members, and perhaps by members of the Islamic Movement. This morning, the indication of his exact location came in, and the operation that ended in Melhem's death began.

The idea that Melhem was hiding in Arara had been gaining strength among the Shin-Bet since Wednesday. Intelligence bodies, including the Shin-Bet, saw several structures which could be hiding spots after analyzing testimony by his friends and associates who were questioned in the past few days.

On Friday morning, a more focused intelligence report on the structure Melhem was occupying came in. Before raiding the building, larger numbers of police and IDF forces closed down the surrounding area.

Wide-ranging searches were conducted beforehand during the earlier Friday hours. Police forces put up checkpoints in Wadi Ara, arresting one area resident in the process.

It's still unclear if Melhem acted alone or was aided by others. The investigation continues, and includes the suspicion that he received aid from family members, and might have been influenced by ISIS. Authorities also suspect that Melhem might have acted as part of an organized terror cell.

During the week that passed since Melhem's terror attack at the Simta bar, the Israel Police has been heavily criticized, particularly the Tel Aviv District Police. The critics focused on what some called the Police's slow and clumsy response to the attack, and the fact that they delayed in publishing Melhem's photo – which could have perhaps aided in capturing him.

Hassan Shaalan, Yoav Zitun, Eli Senyor, and Ron Ben-Yishai contributed to this report.