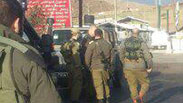 Beqoat checkpoint after an attempted stabbing attack
An attempted stabbing attack was foiled early Saturday morning when IDF soldiers shot and killed two Palestinians who tried to attack them with knives at the Beqaot checkpoint in the northern West Bank.

The two soldiers, part of the new "Lions of Jordan" co-ed battalion, were at the Nablus-area checkpoint as part of routine security operations.

The two attackers arrived at the checkpoint by car from the Palestinian side, got out of the vehicle and tried to stab the two soldiers going past them. The soldiers identified the Palestinians' intention to attack them, kept their distance and shot them, killing them. No soldiers were wounded in the incident.

The pair were named as Mohammed Abu Marim, 23, from near Jenin; and Said Abu al-Wafa, 38, from Zawiyah near Salfit.

The Lions of Jordan battalion, which was established last year, is now regularly stationed in the Jordan Valley. This is the first attempted attack against the battalion's soldiers.

A few months ago, soldiers from the battalion arrested a would-be attacker in the same area after she was found to have a knife in her possession.

The last attempted attack against IDF soldiers took place on Thursday at the Beit Einun junction in in Gush Etzion, when three attackers tried to stab troops who had arrived to search them. The three were shot and killed, and no soldiers were wounded in the incident.