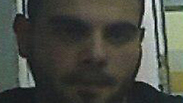 Member of Hamas terror cell
Photo: Shin Bet
Hamas is determined to build up terror infrastructure in the West Bank to carry out attacks and suicide bombings in Israel, as clearly indicated by the breakup of two major cells over the past month.

Six indictments were filed Thursday by the Jerusalem District Attorney against six members of a Hamas cell planning on kidnapping and murdering an Israeli, in a similar fashion to the kidnapping and murder of Israeli youths Gilad Shaer, Naftali Frenkel and Eyal Yifrach in June 2014. The cell had intended to negotiate with Israel in order to free prisoners in exchange for the body.

The two leaders of the cell, Amar Rajabi and Ziad Abu Hadoan, are indeed residents of Jerusalem's Old City with blue (Israeli) ID cards, but their intention was to act as a full-fledged Hamas terror cell and in order to try and release Hamas prisoners in Israeli prisons

This cell's uncovering must be linked to that of the discovery two week ago of a broad Hamas terrorist infrastructure operating in the area of Abu Dis near Jerusalem.

The joint Shin Bet, IDF and police operation led to the arrest of 25 Palestinians so far, mostly students from the University of Abu Dis. The Shin Bet investigation revealed that the cell was headed by Ahmed Gamal Moussa Azzam, 24, from Qalqilya, who was recruited by Hamas in the Gaza Strip a few months ago in order to establish a military infrastructure to carry out deadly attacks against Israeli targets.

Ahmed Azzam was in constant contact with his handlers in the Gaza Strip and was trained by them to serve as an explosives expert to manufacture suicide belts and bombs. As per his handlers' instructions, Azzam recruited several other terrorists studying with him at Abu Dis University, to help him purchase materials to manufacture explosives, rent apartments, recruit suicide bombers and get them into Israel.

The clear message from both of these discoveries is that Hamas is trying to establish itself in the West Bank. Its activity there has three dimensions: training local cells consisting of Hamas militants working in their native areas without external guidance; establishing Hamas cells guided and funded by the Gaza Strip's "West Bank Division" to carry out major attacks within Israel, in an effort to provoke a major military operation along the lines of Operation Defensive Shield, as well as the collapse of the Palestinian Authority. All of this without endangering Hamas's control of the Gaza Strip; and activating operatives based mainly in Qatar and Turkey who provide guidance and funding to rehabilitate Hamas in the West Bank.

Over the past year, the Shin Bet has focused its activity on those very cells which pose the greatest threat to Israel, and as a result, in 2015, dozens of local Hamas cells were broken up, and widescale infrastructure guided from abroad were exposed.

But the discovery of the aforementioned two cells proves how highly motivated Hamas is to carry out kidnappings for the purposes of negotiation and suicide attacks within Israel. Meanwhile, Shin Bet's intelligence and operational efforts in most cases put the security forces a step ahead of the terrorists and manages to foil their plans in advance.