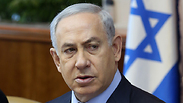 The only candidate on the ballot
Photo: Marc Israel Sellem
Registration for the race to head the Likud party closed on 12pm Sunday, and Prime Minister Benjamin Netanyahu remained the only candidate on the ballot.

As a result, senior Likud officials called to cancel the February 23 primaries in order to save the NIS 4 million the vote is estimated to cost the movement, and alternative solutions are now being examined.

The Likud's main concern is that if the primaries are not held, it would create a legal problem ahead of the general elections: Every prominent candidate could petition and ask to hold a vote for party leadership, creating instability at a time the party needs to be united.

On top of the legal issue, Likud officials say Netanyahu running as the sole candidate for the head of the party would damage the party's image.

The prime minister has often boasted of the democratic process in the Likud party, as opposed to other parties whose Knesset list is chosen by the chairman. Now, the very democratic process Netanyahu takes pride in could skip his own position.

Among the solutions being examined is to cancel the primaries on the condition that legally Netanyahu will be able to head the Likud party in the next general elections. Another option is to hold a "vote of support" in which movement members could either vote for Netanyahu, or put another ballot in order to abstain from supporting him.

The proposal to hold early primaries for the head of the party was raised to a vote by Netanyahu at the Likud Center in December and approved by a majority of 65 percent. The early vote is expected to establish Netanyahu's status as the head of the Likud for many years to come.