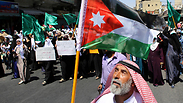 Muslim Brotherhood demonstration in Jordan
At the end of November last year Jordan conducted its first census in 11 years, some of whose results were published on Monday morning in local newspaper Alrai.

The statistics revealed some interesting, albeit unofficial, facts about the makeup of the Hashemite Kingdom's population. The number of residents in Jordan today stands at 9.5 million, an increase of 4.4 million from the last census in 2004.

The dramatic increase is partly attributable to the influx of refugees from Syria over the last five years, which has had a heavy impact on Jordan's economy and society.

According to the report in the Jordanian newspaper, the number of Palestinians living in the kingdom stands at 634,000 – more than six percent of the population. No further details on that aspect were provided, probably because of the authorities' desire to show that there is a Jordanian majority in the country and that this isn't threatened by the large number of Palestinian refugees.

According to global estimates, however, and in contrast to the census data, over half of the Jordanian population is Palestinian.
Fear of the 'alternative homeland'
One of Jordan's biggest fears is the "alternative homeland" idea which has arisen several times among certain circles in Israel. According to this idea, the Palestinians' real homeland is Jordan and will eventually move there from Israel.

For this reason, Jordan is considered one of the biggest and most insistent supporters of the two-state solution – a step it believes is essential to its survival.

Equally, in 2004's census the number of non-Jordanian residents of the kingdom was put at 392,000 (7.7 percent of the population, which was then 5.3 million people). Out of those, 113,000 were Palestinian (29.4 percent of the non-Jordanian population).

The Palestinian Central Bureau of Statistics last month published its figures on Palestinian populations around the world for 2015. According to the data, 5.5 million Palestinians live in the diaspora, 2.2 million of whom are in Jordan.

Out of all the Palestinians living around the world, 2.1 million are registered as refugees. The rest are defined as citizens or residents, or have been granted some other status.

According to the Jordanian census, Alrai reported, out of 9.5 million residents of Jordan, 6.6 million are Jordanian (69.3 percent of the population). The rest are included in the category of non-Jordanian residents.

Refugees and work migrants make up 30.6 percent of the population in Jordan. The 1.2 million Syrian refugees comprise 13.2 percent of the population, 435,000 of whom live in and around the capital Amman.

In 2006, Jordan estimated that its population would double over the next 30 years to 10.6 million; however, in 2016, it is already nearing that figure.