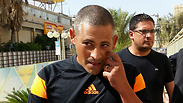 Prisons Service Officer Ronen Cohen, one of the defendants
Photo: Herzl Yosef
Four Israelis were indicted on Tuesday for their involvement in the beating of an Eritrean asylum seeker thought to be a terrorist in the wake of the attack at the Be'er Sheva Central Bus Terminal in October.

Haftom Zarhum was shot by the terminal's head of security, who also thought him to be the terrorist, and then beaten by an angry mob.

The four - Prisons Service officer Ronen Cohen, IDF soldier Yaakov Shimba, and two civilians, David Moyal and Evyatar Dimri - were charged with aggravated battery.

Haftom Zarhum beaten after Be'er Sheva attack (צילום: חוסני קומבז )

The reason for the relatively minor charge is that Zarhum's autopsy found he did not die as a result of the beating he suffered, but from being shot.

"When the deceased was lying on the floor, bleeding, while it was clear to all that he was helpless, and a large crowd of people gathered around him, the defendant David Moyal approached him and slammed him forcefully with a bench that was nearby, with the intention of causing him serious harm, disability or maiming him," the indictment said.

"Some of those present at the scene pulled the defendant away and lifted the bench off the decreased, who remained lying on the floor.

"Shortly afterwards, soldier Yaakov Shimba and Evyatar Dimri approached the deceased and kicked him forcefully in the head and upper body.

"While the deceased was still lying on the floor, in a pool of his own blood, helpless, Prisons Service officer Ronen Cohen and another prison guard who was with him approached (Zarhum), picked up the bench, and threw it at the deceased so it would be over him and prevent him from moving."

In addition to Zarhum, IDF soldier Sgt. Omri Levy was also murdered in the terror attack in Be'er Sheva on October 19. Ten others were wounded.

The terrorist, Mouhand al-Okbi, 21, from Hura, snatched Levy's weapon and started firing indiscriminately inside the bus terminal. He was able to escape the station and a gunfight with police and Special Forces ensued, during which five police officers were wounded. He was eventually shot dead.

The next day, police launched an investigation into the Israelis who beat Zarhum, who was likely in Be'er Sheva to renew his work visa.