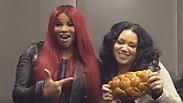 Salt 'n' Pepa brandishing thir favorite bread
What do Salt 'n' Pepa, Ian Ziering and Elon Gold have in common? They're all joining forces in order to try and break a Guinness World Record, along with a number of other celebrities.

They'll be joined by at least 1,000 Jewish kids on Tuesday in an attempt to break the record for the biggest number of people to take part in a baking session.

Celebrities are teaming up with Jewish kids and moms to bake challah en masse

The attempt is the initiative of a number of Jewish moms in New York – religious and secular – and will also include non-Jewish moms. The mammoth baking event is to take place at New York's famous Hilton hotel.

Officially, the kids are competing in the category of "biggest baking lesson in the world," but they are actually trying to bake challahs in the largest number ever, and have invited representatives from the Guinness Book of Records to the event in order to supervise it and confirm that the record has been broken.

"We have so far registered over 700 children, 350 parents and 50 volunteers – and the number of children is growing all the time," said Bryce Gruber, a Jewish journalist and one of the organizers of the contest.

"We want to reach 1,000 children. It will be a record-breaking evening – something that these boys and girls will remember all their lives."

The moms behind the contest come from all walks of life. "It's great to see communities finding a common denominator," Gruber added. The goal, according to the contest's initiators, is "to advance Jewish unity."

The children participating in the competition are aged between five and 13.

"There is something very special and unifying about so many Jews from different backgrounds meeting and doing a mitzvah," said Gili, the mother of one of the participants and one of the event's organizers.

"I love Shabbat, and there's nothing more fun on Shabbat than challah," announced comedian Elon Gold, who called on children "to prepare the best challah in the world."