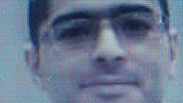 The small, low-key funeral of Nashat Melhem, the terrorist who murdered three people in Tel Aviv on January 1, was held overnight Tuesday at Arara's cemetery.

In accordance to the police's request, presence at the funeral was limited, and only 80 people showed up. Father, Mohammed Melhem, who is under house arrest, did not come to his son's funeral, with some participants claiming that he could attend but chose not to.

"The family knew the body was on its way to the village only short time before it was given to us," said a relative.

Two residents of Arara that tried to film the funeral were insulted and fled from the cemetery.

At the end of the funeral several of the participants shouted that "Nashat died a shahid" (martyr).

Mohammed Melhem, who is suspected of having helped his son, said Monday after his release from detention: "I will continue living my life with my head held high."

He also stated: "After my son is buried I will have something to say to the media."

Nashat Melhem murdered Alon Bakal, 26 and Shimon Ruimi, 30, at the Simta pub in Tel Aviv. A short time later he also murdered taxi driver Amin Shaban, 42. The manhunt after him lasted a week, centering at first in the Tel Aviv area.

On January 8 in the afternoon, a week after the attack, Shin Bet and police counter-terrorism forces surrounded a building in Wadi Ara, where Melhem was hiding.

Melhem exited the building, trying to escape, and opened fire at them with the same weapon he used to commit the Tel Aviv attack. The troops returned fire and shot him dead.