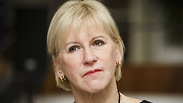 Margot Wallsrtom
Photo: Getty Images
A Swedish delegation has arrived in the country earlier this week to learn from Israel's experience in dealing with security challenges.
Meanwhile, Swedish Foreign Minister Margot Wallström on Tuesday called for an investigaton into what she referred to as Israel's "extrajudicial killings" of terrorists who carry out attacks.
The delegation of former senior experts in Sweden's defense establishment along with former executives in the private sector (for example, the CEO of Ericsson) arrived in Israel on Sunday. It was sent by the Royal Swedish Academy of War Sciences, an independent body that advises the king of Sweden and the Swedish government.
The Royal Swedish Academy seeks to prepare Sweden for future security challenges and catastrophes, and chose to visit Israel given its positive impression of the methods Israel has developed to deal with both current and future challenges.
The delegation, as well as other representatives from the Swedish business sector, come to Israel to develop professional relationships regardless of the Swedish government's policy on Israel. Automaker Volvo, for example, invited Israeli companies to Sweden a few months ago following a successful visit to Israel.
The Swedish delegation has toured the country and met with security officials, Knesset members, Foreign Ministry officials and others.
Members of the delegation met with MK Yaakov Peri (Yesh Atid) and MK Erel Margalit (Zionist Union), among others. They toured the Gaza border area and visited an Iron Dome battery. In addition, they were also scheduled to be briefed by Benny Dagan, head of the Center for Policy Research at Israel's Foreign Ministry, and meet with senior IDF officers during a tour of the Golan Heights.
The vice chairman of the Swedish Parliament has also visited Israel this week, while a delegation from the Swedish Parliament's Foreign Affairs Committee is scheduled to arrive next month.
So despite the frequent criticism against Israel coming from Swedish Prime Minister Stefan Löfven and his foreign minister, the refugee crisis in Sweden and the country's concern of terror attacks appear to be creating great interest in Israel and its experience in the field.