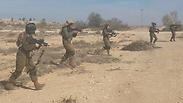 (Photo: Roi Idan)
Photo: Roee Idan
A tense kind of quiet has characterized the Israel-Egypt border for the past year. The desert area has seen the threat of the Islamic State group grow in that time, leading the IDF to realize that it could end up affecting Israel directly – specifically its southern towns. The IDF has taken this danger to heart, and has been preparing.

The IDF Southern Command has changed its war plans three times, updating them to fit the expected threat. For instance, troops are focusing more on fighting in urban areas and protecting southern Israeli agricultural farms, which may be vulnerable to infiltration by ISIS elements.

The number of IDF troops along the border has been greatly reinforced as well: Tanks and artillery batteries have been spread throughout the area, and joint army-air force drills are being conducted.

One of the main visible changes is the vehicles infantry forces are using: The Jeeps and humvees have been reinforced, and equipped with rooftop machine guns.

One of the units in charge of the Israel-Egypt border is the IDF Caracal Battalion (Battalion 33, an integrated infantry unit that has women and men serving alongside each other), which has dedicated much of the past year training for this new threat. This change is defined as "improving lethality."

"The bottom line is that ISIS isn't right outside our gates yet, it's concentrating its forces fighting against the Egyptians, but that's out of choice," said a senior IDF official, "In the last six months, the Egyptians have went through a maturation process. They grew to understand that the rules have changed, meaning it's no longer armies fighting each other, but an army facing a terror organization."

"We in the IDF have improved our lethality. We also understand that the threat has changed, and have made moves that will answer the blows that have yet to land. All along the 220 kilometer border, we've significantly improved our defensive array, before the enemy even moves towards us. This shift is expressed in all fields, according to the threats faced," he added.