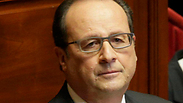 French President Francois Hollande
French President Francois Hollande said on Wednesday evening that a situation in which Jews in France are having to hide their yarmulkes is "intolerable."

Following the call by the head of Marseille's Jewish community, Zvi Ammar, for the city's Jews to hide their skullcaps in order to lower the risk of anti-Semitic attacks, Holland responded: "It is intolerable that in our country citizens are attacked and beaten because of the freedom of religion, and have to hide their faith."

Ammar made his comments in the wake of an attack on a Jewish teacher in the city on Monday morning. Benjamin Amsalem, an ultra-Orthodox resident of the southern French city, was attacked with a machete by a 15-year-old Turkish citizen of Kurdish origin, who was caught after a brief chase.

France's Chief Rabbi Haim Korsia rejected Ammar's call, saying: "We cannot surrender, we will continue to wear our kippot."

In response to the rise in anti-Semitic attacks in Europe, Israeli Chief Rabbi David Lau met with President of the European Parliament Martin Schulz and asked him to safeguard the security of Europe's Jews.

Regarding the call to French Jews to hide their yarmulkes, the chief rabbi said: "I call on every Jew to carry on as normal."