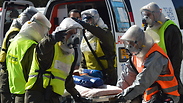 International exercise in Soroka on dealing with disasters
Photo: Shmaryahu Spero, TPS
Hundreds of professionals from 30 countries participated in a large-scale exercise at the Soroka Medical Center in Be'er Sheva this week, simulating the evacuation of dozens of casualties following a massive terrorist attack.
Dozens of simulated casualties with various degrees of injury were evacuated to Soroka in scenarios mimicking a terror attack in a populated urban facility and leakage of hazardous materials from a train car.
"We have a lot of experience in dealing with mass-casualty incidents and I'm proud to have this opportunity to showcase the abilities of our life-saving teams to professionals from all around the world," said Soroka Director Dr. Ehud Davidson.


The exercise was organized by the Soroka Medical Center, the Health Ministry's Emergency Department, the IDF Home Front Command, and the IDF Medical Corps.


It was the closing event of the IPRED IV—the Fourth International Conference on Healthcare System Preparedness and Response to Emergencies and Disasters. During the conference, professionals from around the globe presented the latest findings regarding preparedness for dealing with various disasters and emergencies.
Treating victims in large-scale disasters
Meanwhile in Jerusalem, a delegation of experts in the field of treating victims of large-scale natural disasters came to Israel to learn of Israeli treatment of physical trauma victims. The knowledge they gained will be used back in their home countries, which suffer from frequent natural disasters.
The experts included medical doctors and government officials from India, Sri Lanka and Indonesia. The arrival of Indonesian representatives was a rare occasion since the country has no diplomatic ties with Israel.
The delegation visited Jerusalem's Hadassah Ein Kerem hospital, and learned from Israeli experts about their methods of treating trauma victims. Hadassah runs the only Level 1 Trauma Center, in Jerusalem, which meets criteria set by the American College of Surgeons. The center is prepared to deal with mass-casualty events and treats severely wounded victims.
The foreign experts learned of details about methods used by the center to treat victims of terror attacks, traffic accidents and penetrating trauma from Professor Avi Rivkind, Head of the Hadassah General Surgery and Trauma Departments.
Many of the delegation members are experienced in treating victims of major natural disasters such as tsunamis, floods and earthquakes. They took interest in Hadassah's rehabilitation options for trauma victims, and in the hospital's treatment procedures and division of labour.
"The arrival of such a delegation, including representatives of countries with no diplomatic relations with Israel, is definitely a rare occasion and is something we can be proud of," said a spokesperson for Hadassah.
The visit was initiated and arranged by the American Jewish Committee, an advocacy group acting globally to support Israel and to develop unofficial relations between Israel and foreign states, governments and diplomatic delegations around the world.
Republished with permission from the Tazpit News Agency.