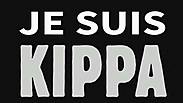 The solidarity slogan, Je Suis Kippa ("I am kippa")
The controversial call by Marseille's Jewish community leader to the city's Jews to remove their yarmulkes has led to the launch of a counter-campaign emphasizing the right of French Jews to feel safe in public.

An attack this week was the last straw for the Marseille Jewish community's religious leadership: A machete-wielding 15-year-old slashed a Jewish teacher in the street. Under police questioning, the boy invoked ISIS.

Zvi Ammar, head of the Israelite Consistory of Marseille, asked Jews to go without the kippa "until better days." Ammar called it the hardest decision he'd ever made. His words disturbed and divided French Jews and non-Jews alike, and evoked Nazi-era fears.

The kippa, traditionally worn by men, is meant to remind the wearer of God's presence over him. It has become customary for Orthodox Jews to wear the head covering throughout the day, while other Jews often only do so when they enter a synagogue, pray or perform a Jewish ritual.

An online campaign has people – Jews and none-Jews alike - sharing photos of themselves and of celebrities with yarmulkes, which are also known as kippas, on their heads.

Among the celebrities featured were soccer players David Beckham and Leo Messi, popular French singer Johnny Hallyday (the latter two were photographed wearing kippas while visiting the Western Wall), actor Rober De Niro, pop superstar Michael Jackson, and French Presidents Francois Hollande and Nicolas Sarkozy.

Some used Photoshop to put kippas on the heads of some celebrities, like the Beatles, French actress Sophie Marceau and even the Mona Lisa.

Among the kippa supporters were also many Catholic members of the cloth, who posted pictures of themselves wearing the Jewish headcover.


The campaign's accompanying hashtag on Twitter and Instagram is #JeSuisKippa (French for "I am a kippa"), which no doubt harkens back to the #JeSuisCharlie hashtag, used to express solidarity with the victims of the Charlie Hebdo attack in Paris in January 2015. Other hashtags used were #JePorteLaKippa ("I wear the kippa") or #TousAvecUneKippa ("We're all with the kippa").

French President Francois Hollande responded to French Jews' fears, saying, "We will not tolerate a situation in our country in which citizens feel worried, attacked, stricken for their religion, or one where they feel they have to hide."

Two French Parliament members, Meyer Habib and Claude Goasguen – the former a Jewish man, the latter a non-Jew - showed their solidarity by coming to the National Assembly wearing yarmulkes – a rare occurrence in France, which has a law forbidding the wearing of religious garb on official public grounds. While the law is unclear in how it relates to the National Assembly, Habib and Goasguen's acts are generally considered unusual.

"The freedom of religion is a central value in France," said Habib. "Taking off the kippa sends a dangerous message of surrender to terrorism. We won't accept a situation in which we are afraid of expressing our Jewish identity. What will ultra-Orthodox Jews do? Shave their beards?"

In France, the kippa debate has raised uncomfortable questions about French attitudes to religious garb, and whether they are fair to everyone in the country's multi-ethnic society.

Daily newspaper "Liberation" featured the topic on its cover, and the website of the most read French newspaper "Le Monde" also dedicated a major story to it.

It's a dilemma about identity and freedom of faith that has confronted religious communities elsewhere in Europe and the US. It's becoming especially acute in France, from where a record number of Jews emigrated to Israel as it grapples with anti-Semitic violence increasingly inspired by the Islamic State group.

"It means that we are projecting part of the responsibility on the victim," France's chief rabbi, Haim Korsia, told The Associated Press.

"What is the limit? ... Someone who walks in the street on Saturday morning on his way to the synagogue, isn't it too visibly Jewish? It doesn't end. And then, some people won't be allowed to wear a (Christian) cross in the street, to wear such or such religious sign?" he asked. "At some point, we have to defend the model of our society and it is a society of secularism and freedom of religious practice."

Jews face this challenge routinely, and widely.

Israel's foreign ministry has a "behavior recommendations" section on its website to ensure safety for Israeli travelers, advising against highlighting "your Israeli identity (in dress, equipment, behavior) when not necessary" or engaging in political arguments.

German Jewish leaders have suggested kippa discretion in recent years, notably in areas with large Muslim populations. The Israeli ambassador to Denmark made a similar recommendation in 2013, drawing ire.

"I have plenty of French customers, Americans, Australians, from all over the world and I have noticed customers abroad tend to buy black kippas out of fear, so it won't be noticed," said Maya Tzidon, owner of a shop called Kippa Centre in Tel Aviv.

At his annual address to foreign journalists, Prime Minister Benjamin Netanyahu addressed the kippa controversy.

"Every Jew everywhere should be able to live safely and enjoy the protection of the authorities and I commend the government of France and other governments in Europe for taking the important stance on this issue. At the same time every Jew should know that they have a home in Israel," he said.

"As far as wearing a kippa, it's the same thing. They have a right, should have a right and enjoy the right to wear a kippa. That is a principle ... as far as the specific choice - that is an individual choice."

The Associated Press contributed to this story.